Name: Danika Rio Navarro
Age: 22
School: Ateneo/School of Fashion and the Arts
Hometown: Antipolo, Rizal
All about prints. My style varies from mood to mood and changes as I shift from one inspiration to another. I can go sophisticated today, girly girl tomorrow, and then hiphop the day after. But generally speaking, my style is all about layers, textures, patterns and prints.
Store owner. Our family runs a boutique so I usually just get from there. Sometimes I visit thrift stores to hunt for unique vintage finds. But I rarely shop here in Manila. Most of my things are from either Hong Kong, China or Bangkok.
Fave designer. I have no single favorite but I do admire several. I love the confidence of the late Alexander Mcqueen and the graphic aesthetic of Kansai Yamamoto. I adore the works of legendary designers, Coco Chanel and Madeleine Vionnet. Among the Philippine Designers: Bea Valdez, Ivarluski Aseron and Cary Santiago's impeccable craftsmanship moves me most.
Interior inspired. As a graphic designer, I can just pick up inspiration from almost anything. But things that often influence my style and works include interior design specifically wallpaper patterns, architectural structures, artworks, bohemian culture, ethnic/tribal moods, safari and animals, plants, flowers and nature, vintage furniture and trinkets, egyptian & renaissance costume, the old english setting, fashion trends. (Because yes, i'm a self-confessed trend follower. Sometimes.)
Style idols. Since I was a kid: the Olsen twins. I remember collecting photos of them and compiling all their looks in a clearbook! But I don't necessarily dress like them, I just admire their personal style. Same goes with celebrity stylist Rachel Zoe and Nicole Richie. Recently, I've also been following style bloggers Jane Aldrigde & Rumi Neely.
Influenced. My mother's style, the world of graphic design, hiphop dance costumes, style blogs, fashion magazines, fashion trends to name some.
Earthly tones. I stack my clothes by color and I try my best to keep it that way for my convenience. Right now, my main closet is filled with garments in autumn shades, earth colors and neutrals. All my brightly-shaded garments were pushed to the back of my closet when summer ended last June.
Never seen wearing... candy-colored skinny jeans
The basic. The white polo, the black blazer and black pumps-- my all time must-have's
Comeback trend. Petticoats, the dior hourglass silhouette, victorian dresses, old english corsets and draped balloon skirts.
Vintage finds. I'm not exactly sure how old this particular vest is that I got from a thrift shop, but it's a houndstooth wool and satin vest by Jessica. I love how they have old but awesome overrun pieces from ukay-ukay!
ADVERTISEMENT - CONTINUE READING BELOW
Visit Rio''s blog here.
Know other stylish girls? Post their links on the comment box below or post in TeenTalk.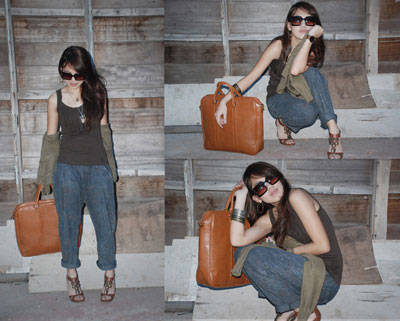 ADVERTISEMENT - CONTINUE READING BELOW