Name: Riana Patricia Villavicencio Lago
Age: 13
City: San Juan
School: British School Manila
Multiple styles. I really don't have one particular style. I can go from one extreme to another, like one day I'm dressing all girly and then the next day I go rocker chic. I just really dress depending on how I feel and I have no problem showing the different sides of me. I absolutely avoid plain jane.
Shopping musts. I usually shop at malls, boutique stores, and bazaars. My wardrobe is a combination of thrifted items and designer brands.
Style icon. Not one in particular. I'm influenced by many people, like Emma Watson, Demi Lovato, Laureen Uy, and even Kim Chiu.
Style influence. Traveling has played a big role when it comes to what has influenced my style. Reading fashion magazines and blogs, watching fashion shows, and enrolling at fashion courses are all definitely my biggest fashion influences.
Closet hues. You will find all possible colors in my closet and I use them all. My favorite colors though are pink and blue.
Fave accessory. I love wearing rings but my absolute favorite are my nude shoes!
Not wearing. There's no one thing or style in particular I wouldn't wear. I like trying out new things and making it work.
Trendy comeback. Clean and structured pieces.
Bargain purchase. A one-dollar ring from Alaska!
Grandma's vintage. I just love the white Chanel bag that my grandmother gave me. She told me it goes way back!
ADVERTISEMENT - CONTINUE READING BELOW
Do you want to be the next It Girl on The Web? Fill out the form here.
ADVERTISEMENT - CONTINUE READING BELOW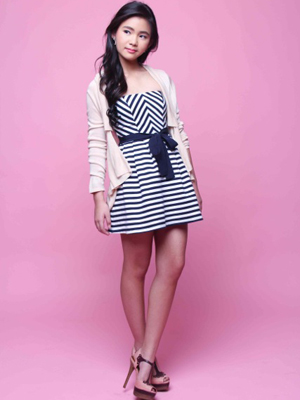 ADVERTISEMENT - CONTINUE READING BELOW