Name: Reese Lansangan
Age: 19 years old
School: Ateneo de Manila University
Hometown: Quezon City, Philippines
Crazy eclectic. My style is a weird cross between a dreamy Victorian Geek who sips tea with her stuffed animals, and an offbeat DIY Guru with fake pearls, feathers, and plastic cars hanging down her neck. It's kooky and quirky and bizarre and all sorts of weird adjectives strung together. If you want evidence, I chronicle my daily outfits in this blog.
Shopping destination. My family loves traveling, and when we go out of the country, I make sure I hoard a lot of lovely things which I could bring home. My favorite shopping destinations would be Japan and Thailand, definitely. I also love thrifting, and I go with my friends every now and then. I think it's an absolute adventure! I love cheap thrills so department stores and bazaars are also my go-to places. They have everything!
Fave fashion designer. Yang Du, JC de Castelbajac, Ashish Gupta, Eri Utsugi, Anna Plunkett and Luke Sales, Vivenne Westwood, Nadine Zlotogora, Betsey Johnson, Louise Gray, Jeremy Scott... I have so many, and they are all bizarre and exploding with awesomeness :)
Always with... accessories. I'm absolutely obsessed with crazy jewelry (I make my own as well) so I have a lot of that in stock. I never leave the house without chains on my neck or a bunch of rings on my fingers. And also, headpieces! I have a separate closet for my hats, headbands and ribbons!
Inspiration. Japanese Street Style, plastic toys, Yang Seung Ho, girls with crazy, colored hair, Victorian era, the 90's, magazine stacks, Asian culture, brand lookbooks, female musicians, sequins and glitter. And of course, the wonderful world wide web.
Style icons. I'd like to think that I am a little bit of all of these girls, if you will allow me: Clarissa Darling, Claudia Kishi, Julia Frakes, Audrey, Mme. Yulia and Cassie Ainsworth.
Asian influence. Asian fashion (specifically Japanese street style + stylist Yang SeungHo) is definitely an integral part of my fashion aesthetic. They are mostly to blame for my (sometimes) bizarre and daring fashion choices, and I'm very proud of it. I think style is a way to present yourself to the world. At the end of the day, you should be wearing what feels like you, and what makes you happy... even if it means wearing doll heads as necklaces (guilty of this - but there is a time and place!)
Rainbow bright. My closet is literally a rainbow. I don't organize my closet in any particular way, so the colors pop out everywhere. I usually gravitate towards pastels and neons, though. For me, there's no such thing as "too much color", and I would wear all colors at once if I could!
Never say never. I never say never when it comes to fashion. I used to say I'll never wear harem pants but now I have seven different pairs. But I guess I wouldn't wear something too sexy or revealing, cause I still believe in modesty :)
The basics. A white shirt, your Mom's old bag, and... Barbie :)
Fashion rewind. Petticoats, crinoline, brocade dresses... It would be wicked fun if everyone started wearing balloon skirts, lace gloves and powdered wigs again - and not just for afternoon tea!
Vintage owns. I think the most precious heirloom I have is a beautiful gold pocket watch from my great grandmother. I don't know how old it is exactly, but you have to wind it from time to time to make it work. That should be old enough, yes?
ADVERTISEMENT - CONTINUE READING BELOW
Visit Reese's blog here.
Know other stylish girls? Post their links on the comment box below or post in TeenTalk.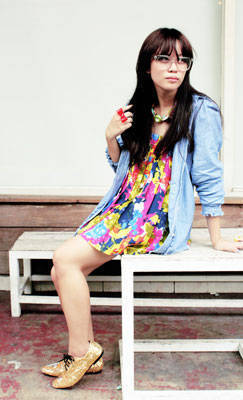 ADVERTISEMENT - CONTINUE READING BELOW