Name
: Raisa Myrthle Hinck
Age
: 20
School
: International student at University of Nevada, Las Vegas
Hometown
: Makati City
Personality check
. My style has a little bit of everything. I enjoy taking elements from many different styles (casual, preppy, goth, urban). I travel back and forth between the Philippines and the States because I study abroad, and that gives me the opportunity to explore many styles that I otherwise wouldn't have known. My mood vastly influences how I dress day to day. One day you'll see me in a designer coat and four-inch ankle boots, and an oversized shirt and yellow Converse the next! The most important factor for me is comfort. While I do take risks every now and then, I still wouldn't wear something that doesn't reflect my personality.
Department store lover
. Nothing beats good ol' Landmark and SM! My mom also took me to Divisoria once, and I've loved it ever since. Other stores I like are Bayo, Bench, Human, Kamiseta, Zara, and Terranova. In the States, I like Forever 21, Wet Seal, Express, Hot Topic, and Charlotte Russe. Their thrift shops are also great!
Real people fashion
. Honestly, I've never paid much attention to fashion designers. I know they're a pivotal part of fashion, however I much prefer seeing trends on real people.
Hair apparent
. A great hairstyle. It can make or break an outfit. I never leave the house if my hair isn't done, or at the very least hidden under a cute hat. Accessories are also an important part of my outfit; they bring my clothes together.
Inspired
. I can take inspiration from anything: movies, cartoons, old paintings, video game characters, anything! I frequently surf fashion blogs and message boards (especially Chictopia and Lookbook.nu) for ideas. Lately, I've been inspired more and more by menswear. I also admit that I get a lot of inspiration from Japanese manga.
Style icon
. Zooey Deschanel. She looks gorgeous in anything!
Style influences
. My mom and my sister. I can get very creative (and by creative, I mean as if my closet threw up all over me) with dressing myself. My mom brings me back down to earth with her great sense of style. My little sister, on the other hand, already has a great eye for fashion at 13. A lot of my funkier pieces were handpicked by her! The three of us love shopping together.
Brights
. I love bright colors, especially yellow! My closet has way too much yellow. Lately, I've been liking green more and more. I also have a lot of blues and reds. During the colder seasons, I love blacks and grays. I'm not very fond of brown.
Caught in the act—never
! Drop crotch pants. It's definitely not for me.
Three timeless pieces
. A pair of well-fitting jeans, the little black dress, and black pumps.
Comeback trend
. Embellished jeans! It was a dream of mine to own a pair.
Family vintage
. I have a lot of hand-me-downs from my family. One item I really adore is this floral-printed cardigan from my mom. I took it from her closet one day and unofficially declared it mine. It's been around for as long as I can remember.
Know of any stylish teens? Comment below.
ADVERTISEMENT - CONTINUE READING BELOW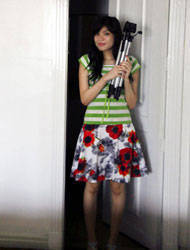 ADVERTISEMENT - CONTINUE READING BELOW