Name: Paola Mauricio
Age: 17
City: Pasig City
School: Creative Writing major at the Philippine High School for the Arts
Effortless style. In a nutshell, it's edgy and laid-back. But that's a bit of an overstatement. My style is basically anything I can pull off with little to no effort.
Shopping faves. I shop anywhere that would give me a bang for my buck. I love going to thrift stores, boutiques, and online stores. However, my all-time favorite place for new finds would definitely be my mom's closet, haha.
Iconic style. I admire Tavi Gevinson, because she dresses how she pleases without worrying about judgment. I'm also keen on Korean fashion. They know how to dress!
International influence. I'm largely influenced by London street style and the Korean aesthetic for fashion. It makes for an interesting combination.
In my closet. Mostly neutrals and pale, washed out colors. Half my closet is a sea of gray.
Accessory must-have. A lot of people know me for the stack of bracelets I have on my right arm. Whenever I meet someone new, their first question is often: "Ba't andami mong bracelet?" Each bracelet has a special story. They were either gifts or mementos from places I've been. My bracelets are the only accessories I'll ever need.
Never wearing. Ballet flats and baseball caps.
Trend comeback. '80s punk, most definitely. I wish I belonged in that decade.
Best buy. I once found a nice loose-fitting gray shirt for around P199. But upon payment it was apparently marked down to P99. Score!
Bro's vintage. I found my older brother's denim jacket from when he was 7 and turned it into a vest. It's around 12 years old now.
ADVERTISEMENT - CONTINUE READING BELOW
Do you want to be the next It Girl on The Web? Fill out the form here.
ADVERTISEMENT - CONTINUE READING BELOW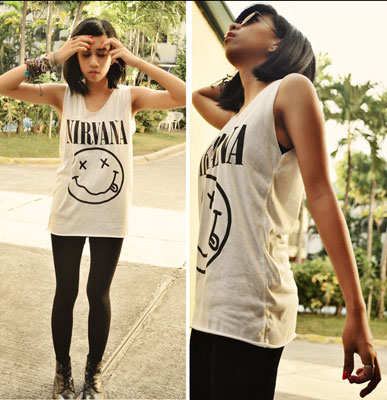 ADVERTISEMENT - CONTINUE READING BELOW