Name: Naomi Ogasawara
Age: 20
City: Las Pinas City
School: University of Santo Tomas
My style. Ever-changing. I like all kinds of styles, but lately I've been embracing the silhouettes and cuts of vintage fashion. In my opinion, it's not always about what's "in." I wear what I feel confident in and I know what works with my body type.
Shopping musts. Thrift stores! It's paradise for someone like me who has a variety of styles. It's a also a really good arm workout to look through the endless racks of clothes, but when you hit the trifecta—right size, good quality, and on-sale—it's all worth it. Plus, you get to go home with more clothes for a lower price!
Style icon. I'm always so fascinated with women of the '60s: Marilyn Monroe, Audrey Hepburn, and Brigette Bardot.They always look so chic and confident with their big hair, red lipstick, and outfits that flatter their figure.
Style influence. Colors. I started playing around with fashion when my mom taught me about basic color combinations. Warm colors, cool colors, etc. Experimenting with patterns and cuts evolved from there.
Closet colors. Every color you can think of. I'm not afraid of wearing bright colors or plain neutrals. Like I said, it's always fun to experiment!
Accessory fave. Shoes. They're the perfect accessory to every outfit. It's so easy to dress up or dress down an outfit with the right pair of shoes.
Never wearing. Culottes, those pants that only go halfway down your calves. They always make me look shorter than I really am. It's a tricky length that doesn't suit my figure.
Trend comeback. High-waist anything. I'm really glad they're here again, because high-waist bottoms automatically make short legs longer, which is such a big boost for my height.
Best bargain. My D&G high-waist pants. I got them at a thrift store and changed them up to make them look like the distressed cut-out shorts you see online.
Vintage. I have An ankle-length, polka-dot skirt that looks like something from Minnie Mouse's closet that used to be my mom's. I wore it to every vintage-themed event in school. It's around 18 years old and it's still in my closet!
ADVERTISEMENT - CONTINUE READING BELOW
Do you want to be the next It Girl on The Web? Fill out the form here.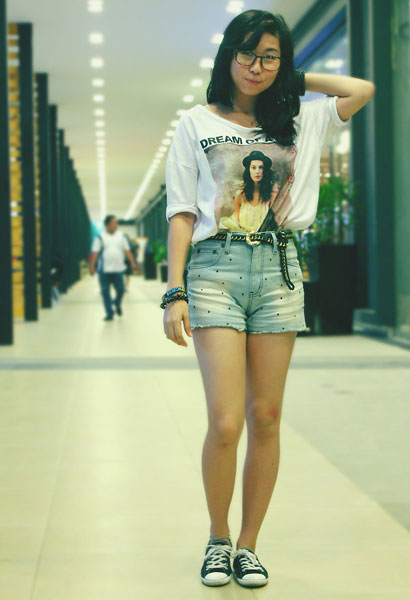 ADVERTISEMENT - CONTINUE READING BELOW