Name: Naissa Carmona
Age: 21
School: De La Salle University
Hometown: Makati
Polished and Chic. My style may vary as it is always influenced by trends; but these two will always remain constant.
Shopping haven. The Ramp, Tango, Topshop, Multiply Sites and bazaars. I also love going to Greenhills every once in a while.
Fave Fashion designer. Alexander McQueen, and Christophe Decarnin for Balmain.
Always part of the outfit. As of now, a huge ring.
Inspired. Fashion bloggers. They are real people with great style sensibilities and it is just impossible to not get inspired by them.
Favorite style icon. The Olsen twins.
Style influence. I would have to say, my family, especially all my aunts who are all so polished, stylish and glamorous. My style has greatly been influenced by what I saw and experienced while I was growing up.
Color palette. Very neutral and subdued- a lot of black, white, brown and grey and just a little splash of bright colors and shimmer.
Never say never. Well, one thing I learned about fashion is to never say never. I used to go through my mom's closet back then and I remember saying that I would never wear shoulder pads; but look at it now, it is such a huge trend and I simply can't get enough of it.
Stylish three. A basic white tee, classic pumps, and the Little black dress.
Fashion comeback. Soft layers and dresses that reflect femininity.
Vintage finds. Yes, a lot! From bags, to accessories, belts and even clothes. I love great vintage finds!
Know other stylish girls? Post their links on the comment box below or post in TeenTalk.

ADVERTISEMENT - CONTINUE READING BELOW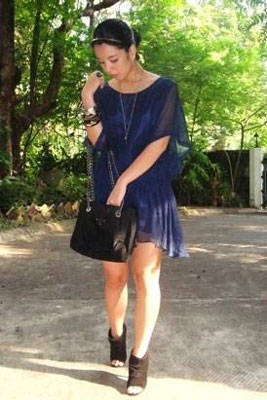 ADVERTISEMENT - CONTINUE READING BELOW