Name: Mika Perez
Age: 20
School: De La Salle-College of Saint Benilde
Hometown: Manila
Grayscale. I tend to focus on the lines and over-all silhouette of the outfit. I mix and match a lot and wear things again and again because I dont have a large wardrobe. I'm really into androgyny, I dont like overtly feminine details like florals, bows and cutesy stuff.
Not really a shopper. Thrift stores, other people's closets. I rarely buy clothing at the mall, but I like to window shop.
Fave fashion designer. Rei Kawakubo, Rick Owens, Ann Demeulemesteer. Realistically, I cant afford to be be brand conscious.
Always wearing... big, chunky rings. I got the bulk of my ring collection from Quiapo.
Street style inspired. Japanese and European street style, various magazines like Wallpaper and FRUiTS and books on architecture and interior design. Also, Lookbook.nu is very useful when looking for instant inspiration from people all over the world.
Style idol. Daphne Guinness. She's out-of-this-world, daring and marches to her own beat. Also, I covet her shoe and hat collection.
Art in mind. My style is influenced by design, in general. I'm a Multimedia Arts major so design is part of my life. I enjoy the process of combining form, texture and color to create something that is pleasing to the eye, and this applies not only to my design work but also in my style as well. I keep a blog of my personal style and design at http://definedelirium.blogspot.com
The basics. Combat boots, skinny black jeans, plain gray shirt.
Classic key piece. Not really a trend, but I wish head wear would be in vogue again. I'm trying to learn how to make hats and it's interesting to note that our grandparents never left the house without a hat of some sort.
ADVERTISEMENT - CONTINUE READING BELOW
Know other stylish girls? Post their links on the comment box below or post in TeenTalk.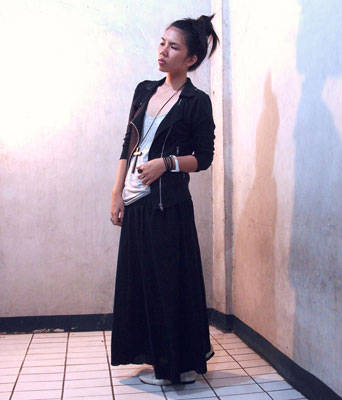 ADVERTISEMENT - CONTINUE READING BELOW