Name: Mary Ann Duran
Age: 21
School: University of the Philippines - Diliman
Hometown: Antipolo
Less is more. My style is pretty minimalist. I think less is more. I'd rather be underdressed than be overdressed. I do not accessorize much. I want the focus on my outfit and on my shoes. A fierce pair of shoes, for me, is a woman's greatest accessory. It can make or break an outfit. Also, I am a mood dresser. I can be girly today and androgynous the next.
Shopping haven. I can shop everywhere anywhere, but my favorite places to shop are Zara, Topshop, Mango and People are People. I currently love the thrill of finding awesome pieces at department stores (The Ramp Crossings, SM Department Store, Robinsons Department Store). I also love browsing online stores (http://ichigoshoes.multiply.com/ and http://trunkshow.multiply.com/). But before I buy, I ask where their stores are. I want to try fitting their items first. I am kinda scared that they do not fit if I do not try them on. I like going to ukay-ukays to find one-of-a-kind and vintage finds.
Fave fashion designer. Coco Chanel and the people behind the line. I find it very Classic and Timeless. You can buy a bag there and give it to your future kids and it will still be chic after 10 years.
Always wearing... My watch – most of the time, it's my only accessory. It looks like a bracelet and it matches all my clothes. And besides, I find it really useful. It keeps me from being late to a class, a meeting, or other appointment.
Inspired. Fashion bloggers, like me, who love to share their looks and express themselves through their clothes. It's like taking a glimpse in their identity. You will always have a tinge of idea of who a person is based on the way he/she dresses.
Style icon. Agyness Deyn, for her cool, quirky and androgynous style. Rachel Bilson, for her sweet and casual mix of styles. Blake Lively and her alter ego Serena (from Gossip Girl), for her sexy and sophisticated style.
Fashion influence. I read magazines, go to fashion blogs (look book, chictopia, celebrity blogs (best dressed and fasion faux pas for things to avoid), watching teevee (i.e. gossip girl), my friends and random people I see all around the Metro.
Basic shades. Everything! Black, White, Gray, Floral but I'm currently obsessing over the neutral palatte.
Never ever! Crocs – It won't match any of my outfits.
Stylish three. Denim shorts, black platform pumps, the perfect white tee.
Comeback trend. The era of Audrey Hepburn! She was the epitome of class and sophistication.
Vintage hand-me-downs. My lola gave me this vintage umbrella. It's still very usable today and it is really chic. It stands out because it looks and feels like no other umbrella is being used out there during rainy days in the Metro. It is a fashion accessory in itself.
ADVERTISEMENT - CONTINUE READING BELOW
Know other stylish girls? Post their links on the comment box below or post in TeenTalk.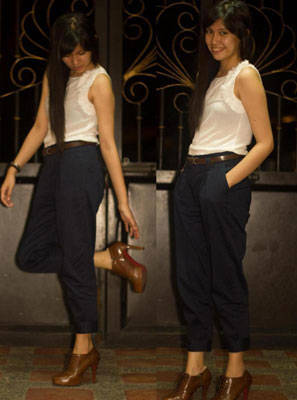 ADVERTISEMENT - CONTINUE READING BELOW