Name: Melissa Kahayon
Age: 19
School: De La Salle University Manila
Hometown: Manila
Unpredictable mix. It's very unpredictable. One day I'll be wearing skirts and high heels and the next day, I'm in a motorcycle vest and leggings! It always depends on my mood and the weather of course. I plan my outfit the night before but sometimes, I end up changing at the last minute. It's usually a mix of feminine, bohemian and punk rock and I don't really wear jeans anymore.

Shop attack. I shop anywhere and everywhere! I'm usually in Rockwell, Glorietta, and Robinsons Manila. In Rockwell, I shop at the Archeology wing and at SOFA's Retail Lab. In Glorietta, I shop at Tango, The Ramp, Crossings, Zara and the Teens and Kids Zone. Robinsons, SM, and Landmark have a lot of great accessories for unbelievably cheap prices. Rockwell bazaars are always the best and the thrift stores in Makati Cinema Square also have a lot of nice clothes. I have yet to bring to our seamstress some of the clothes I bought there to have them altered. :)

Favorite fashion designer. I love Esteban Cortazar's collection for Ungaro. I love the color palette of the dresses and how dramatic they are. Riccardo Tisci for Givenchy and the bondage style was really breathtaking! Karl Lagerfeld and how he balances style and function, Narciso Rodriguez is pretty amazing too. Locally, it would be Cary Santiago.

Outfit completer. A huge pair of earrings.

Inspire me. I love looking at other people's blogs (seaofshoes, karlascloset, fashiontoast, jakandjil, nini's style, susiebubble) I also get inspiration from my friends- they have different and amazing styles and all the stylish girls in Chictopia!

Style icons. Kate Moss and how she always look so effortlessly chic, Victoria Beckham because she has a lot of amazing bags, Carine Roitfeld, Kate Lanphear and Giovanna Battaglia- I love the way they accessorize- they have the fiercest shoes and bling!

Closet's color palette. More than half of my closet consists of black and gray colored outfits and I rarely wear white.

Never ever. Colored leggings and Crocs! Haha my mom bought me 2 pairs of the Crocs ballet flats though so we'll see about that but as of now, I have no plans of wearing them. Heehee!

Stylish three. The basics! A nice pair of black pumps, a crisp white shirt and the little black dress.

Trend comeback. I am really intrigued and amazed with the Kentucky Derby tradition. I love the fashion and most especially the hats. I just love how huge and stylish they are and the long and high waist skirts worn by the women during the '50s.

Vintage hand-me-downs. I own a lot of stuff from my lola! From vintage Chanel and Nina Ricci bags, lots and lots of jewelry, clothes and skirts. I had some of the clothes re-worked to give a modern vibe to it.
Know of other stylish girls? Post their links on the comment box below or
post in TeenTalk
. 
ADVERTISEMENT - CONTINUE READING BELOW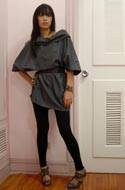 ADVERTISEMENT - CONTINUE READING BELOW