Name: Kathleen To
Age: 16
School: Presbyterian Ladies' College
Hometown: Melbourne, Australia

Indescribable style. A little of this, a little of that. It's hard to describe because I'm influenced by so many different things.
Shopping haven. My mother's wardrobe. Joke! (not really, I do take her clothes a lot) I usually shop at local markets or thrift stores. I always manage to fine amazing bargains. I also, of course, shop at shopping centers/malls and sometimes I shop on ebay—I love looking for online bargains!
Fave fashion designer. This is a tough one but I'll go with Akira Isogawa, an Australian designer. I love his design philosophy in that he doesn't just make the clothes but he also takes an active role in the making of the fabrics—this way he is involved in the entire process from the very start to the final finished garment.
Inspired. I'm inspired by almost everything. It's so easy to just look around and see something you like and draw from it. There's a lot of understated beauty in the world that is easily surpassed if you don't look close enough.
Style icon. It changes all the time, but I prefer to look at street wear blogs or sites, such as chictopia.
Fashion influence. Everything—whatever is on the runway, magazines, people around me (family, friends), and chictopia (of course).
Closet color palette. I've been known to wear a lot of blue, haha! I didn't realize until someone mentioned it on chictopia! It's true though, I own a lot of blues, greys, and blacks. Oh, but I happen to have numerous pairs of red shoes—I don't know why!
Never ever. I will never be caught wearing Ugg boots and shorts—seriously, why do people do that?
Stylish three. Jeans, LBD, underwear (I'm serious!)
Vintage hand-me-downs. Oh I love vintage things from my mom and lola. Just recently my lola gave me 5-6 metal chain belts from the hippie-chic era. They're beautiful and have a rustic age to them that is soooo gorgeous. My mum also has a few bags that I absolutely adore—especially this little red Nina Ricci sling that is absolutely perfect! I also wear scarves and jewelery from my lola, oh and shoes too—the list of things is endless!

Know other stylish girls? Post their links on the comment box below or post in TeenTalk.

ADVERTISEMENT - CONTINUE READING BELOW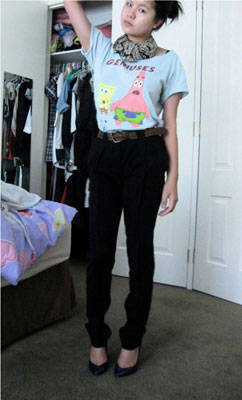 ADVERTISEMENT - CONTINUE READING BELOW