Name: Kate Santos
Age: 21
School: John Robert Powers
Hometown: Tuguegarao, Cagayan
Comfort over fashion. It would be hard for me to describe my style when I basically just throw on whatever entices me at a particular moment. I'm actually lazy when dressing up. But if I would choose three words to sum it all up it would be comfortable, laid back and oversize. I pretty much wear the same things but with certain twists and a couple of mixing and matching if I'm not feeling too lazy.
Shopping choices. The mall, and I always have to look at what each store has. Sometimes when I feel like it, I go to the ukay-ukay to hunt vintage one-of-a-kind garments and bags which is pure bliss because they don't cost so much!
Always wearing... A long necklace. I've been obsessing over this Cross necklace that I bought at F21. I somehow always find myself wearing it. Every time.
Inspired by others. I guess the LookBookers. It isn't completely about the clothes, I want to create beautiful photos like the ones they post there.
Simplicity icons. Anyone who shows simplicity and looks effortless in the way they dress is my favorite.
Lookbook lover. The major influence is Lookbook. I only started paying attention to details in dressing up after being inclined to the website. Other than that, basically whatever I see on the internet or around me that is beguiling to my eyes.
Nautical and then some. Black, white, gray and blue mostly. I've been wearing a lot of the gray and blue combination lately.
Never ever! A Lady Gaga outfit.
The basics. That would be leggings, ballet fats and a plain white shirt. They're simple and easy to accessorize.
Trend comeback. Loafers! Definitely. It's the most comfortable thing in the world.
Vintage finds. A floral blazer that I can't wear without looking like I have a hunchback so I still need to have that adjusted haha.
ADVERTISEMENT - CONTINUE READING BELOW
Know other stylish girls? Post their links on the comment box below or post in TeenTalk.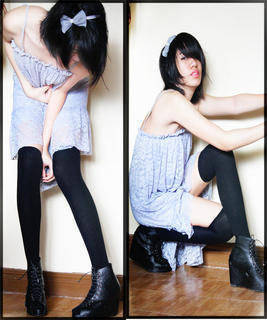 ADVERTISEMENT - CONTINUE READING BELOW