Name: Joni Andrea Ong
Age: 22
Hometown: Manila
The non-conformist. My style is ever-changing. It really depends on my mood and what influences me at that particular moment. Sometimes, I want to be really girly but then other days I just want to be dark and edgy. One thing that's constant is that I don't like to conform.

My usual haunts. I usually buy stuff from Topshop, Powerplant's Archaeology Wing, Wisdom, MLNW, Theodore's, Uber Finds (for cool vintage stuff) and online (multiply stores rock!). I also shop a lot abroad—HK and Korea!

Favorite designers. Karl Lagerfeld and Marc Jacobs because they've been in the fashion scene for so long and yet they never fail to surprise me every season. Alexander Wang and Christophe Decarnin because they are modern geniuses. They have this very edgy, refined street style that I love.

Always present. A cute, big bag that can hold all my stuff. I usually bring around a tote bag (I love my ROOTOTE and Marc by Marc Jacob tote bags).

Fashionspiration. I'm inspired by a lot of bloggers. I like how their outfits are very real. I have my own blog as well (http://limebasil.blogspot.com). I also like to look at models' off duty outfits. I also get ideas from my favorite shows like Gossip Girl and movies Elizabethtown.

Style icon. Twiggy because her style is timeless. Oh and also Kate Lanphear because she's always one step ahead of everyone, a definite trendsetter.

Musical influence. I love to travel so I think I'm influenced a lot by what I see abroad. I really got into fashion when I studied for a semester in France. Music also has a major influence on me. I'm currently loving MGMT, Goldfrapp, Lily Allen, The Ting Tings, and Vampire Weekend.

Inside my closet. For SS09, I'm filling up my closet with dark colors especially black and gray but with touches of bright, happy neons. I'm also loving metallic, sequined everything - leggings, minis. Very rocker chic.

Not happening. Poufy hair. I can never understand why people before liked that.

Classic three. Comfy, perfect fit denim jeans, a classic designer bag, a pair of statement heels.

Fashion flashback. The '70s hippie look. I would love to relive the whole flower child era with the flared jeans, flowy dresses, and bohemian vibe.

Vintage is love. I inherited a lot of my mom's and lola's vintage accessories. I loooove my mom's quirky clips and belts from her teenage years (my grandfather used to import accessories from Taiwan). I also love getting their old designer shoulder bags (Nina Ricci, Gucci, Celine). I'm also currently obsessed with my dad's old round Rayban sunnies.
Know other stylish girls on the web? Comment down below!
ADVERTISEMENT - CONTINUE READING BELOW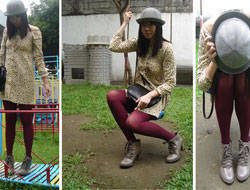 ADVERTISEMENT - CONTINUE READING BELOW