Name
: Jeslee Hanna Hiñola
Age
: 19
School
: Simon Fraser University
Hometown
: Manila, Philippines
Moody. Like my mood, my style varies a lot; it keeps changing from day to day. I try to achieve a different look every now and then. It's quite unpredictable and exciting! Colors and accessorizing are the major things I consider when dressing up. A full black or monochromatic outfit is very simple and common to do, but splashing colours to it (i.e. red shoes, purple scarf, etc.) makes it stand out. I mainly dress up according to my mood, the weather, and comfort.

Bipolar Shopping. Back in Manila, I would normally shop at the tiangges, People are People, Terranova, Tango, and VNC. Here in Vancouver, the stores I go to are Zara, H&M, Urban Outfitters, Urban Behaviour, and Brown's for shoes.

Look but don't buy. I do admire designers such as Stella McCartney, Marc Jacobs, and Consuelo Castiglioni. However, I don't really buy from them considering it's not in my price range. (haha)

Always present. The necklace that my BFF sent me for my birthday.

Inspired. I don't have a particular person in mind but I like observing people on the street flaunting their style. I get my inspiration from that.

Style icons. I consider three people for this: Mary Kate Olsen, Jennifer Aniston, and Jackie O.

Fashion by geography. That would be the mere fact of living in Vancouver, and Chictopia.

Color closet. I'd say a rainbow!

I will never wear... "Spice Girls' boots"—those humongous platforms (no offense. I love the Spice Girls!)

The three classics. A pair of Jeans, the classic LBD and LWD, and Chanel handbags (haha).

Yesterday's fashion. Well, I think every decade in history have already made their own comebacks. But I would really love the 50's high-waist poodle skirt to stick around.

Something borrowed. I always do borrow my mom's shoes and clothes (those that would fit me because she's skinnier and smaller than me).
Know other stylish teens on the web? Comment down below!
ADVERTISEMENT - CONTINUE READING BELOW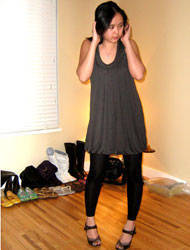 ADVERTISEMENT - CONTINUE READING BELOW