Name: Jamie Lou Borile
Age: 20
City: Daet, Camarines Norte
School: Ateneo de Naga University

My style. It's kind of versatile. Sometimes I'm girly, sometimes I'm edgy, sometimes I feel like being a free-spirited bohemian. My style has evolved through the years. I'd usually go for all-girly clothes before, but now, I now tend to dress up with an edgy and indie style. Of course I still usually add some cute and girly touches to my outfit!
Shopping faves. I'm a huge fan of thrift stores! But, if I have some money, I'd always go for Forever 21.
Style Icon. Tricia Gosingtian. I've always adored her style. She can pull off any style and still look so put together and kawaii! I just think that she understands the science of fashion very well!
Style influence. International and local fashion bloggers really have a great influence on my style. I also like reading books about fashion, like style guides, to get inspiration. I am also a fan of Japanese fashion.
Closet colors. Lots of pinks! But with my recent style shift, I noticed that shades of red (especially burgundy) and blacks are taking over my closet!
Fave accessory. I love collecting eyewear and rings. As of the moment, I think I have about a hundred fashion rings!
Never wearing. I actually like to challenge myself from time to time. I believe that everything can work out with the right styling.
Trendy return. 60s fashion! I've always been a fan of vintage clothing, and the dresses in the 60s are really to die for!
Best bargain buy. A hundred peso pair of Doc Martens-inspired boots! I've been using it for years now and they still haven't given up on me.
Vintage love. Yes, I actually have a vintage brooch that I received from my godmother on my 18th birthday. She said it was passed on in their family from generation to generation, so I guess that's pretty old.
ADVERTISEMENT - CONTINUE READING BELOW
Do you want to be the next It Girl on The Web? Fill out the form here.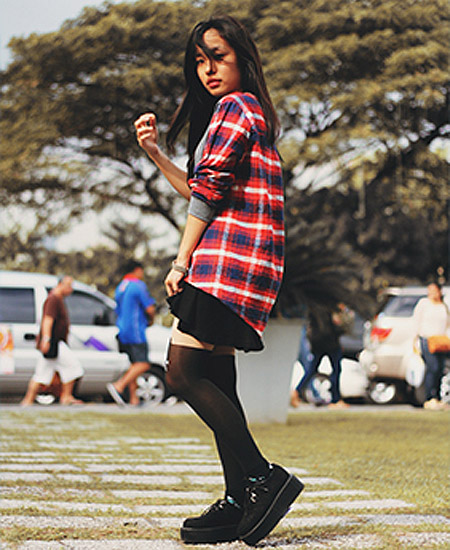 ADVERTISEMENT - CONTINUE READING BELOW