Name: Isabel Sicat
Age: 16
School: International School Manila
Hometown: Manila! Woohoo!
Two-faced. My style is somewhat schizophrenic in the sense that I don't dress consistently. One day I'll wear an old motorcycle jacket with some vintage sunglasses and Converse and the next it'll be black tights, booties, and a French dress. Basically, any mashup of clothes and accessories that will look good (and that I can afford!).
Cheaper by the dozen. I like to go to inexpensive places like thrift stores or places like SM to shop. Occasionally, I'll splurge on more pricey items at a store like Zara, but I definitely like going to the cheaper places—you really have to sift through, but eventually you'll find some great stuff. Also, you can buy more. Ukay-ukays along EDSA are the best!
Dare to bare. Always part of my outfit: underwear! And a vanilla fragrance.
Stylinspiration. I'm inspired by anything, really. I can see an outfit post on a fashion blog (hurray for Chictopia!), old picture or a great piece of artwork and immediately I'll think, "WOW" and an outfit combo might come to mind. Some of the most inspirational things I'll see in my daily life: that's one of the great aspects of fashion. Anything and everything is inspiring.
Twin Icons. I particularly like the Olsen twins—MK especially. I love everything they wear, and I really want a copy of their book, Influence!
Fashion is in my blood. My cousin, Jules: she was the one who first got me into fashion and dressing well! I used to dressed terribly. I'm forever grateful for her!
ADVERTISEMENT - CONTINUE READING BELOW
Organized chaos. My closet is completely unorganized so it's not exactly a R O Y G B I V layout: mostly of black and white basics peppered with brightly colored pieces. But I love color, so even though black/white is always good, I'll somehow integrate some bright piece in.
See you later, alligator! I will never be caught wearing: CROCS! N-e-v-e-r.
Three times the charm. A well-tailored coat, good pair of jeans, and slightly oversized cardigan.
Blast from the past. I would say oversized items/sweaters from the '80s but they're pretty in right now. Probably more '20s influences like cloche hats or the slim silhouette of the dresses.
Stylish hand-me-downs.Some of my favorite items used to belong to my Mom and my lola, like my Mom's 1980s glasses or dresses, skirts and scarves from my lola (that I sometimes alter/shorten). I like to take things from my male relatives too. I love my Dad's old oversized V-neck Hanes T-shirt and this Yale sweater from when my Grandpa went there.
Know of other stylish teen girls on the web? Comment down below!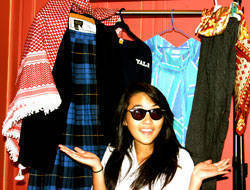 ADVERTISEMENT - CONTINUE READING BELOW