Name: Hazel Fajardo
Age: 18
School: UERM, BS Physical Therapy
Hometown: Quezon City
Simple but classy. My style really depends on my mood, like one day I'm all girly and preppy, and the next day I'm a rocker chic or a laid back girl. I tend to keep my style simple yet classy and I make sure that I am comfortable with my outfits 'cause I don't wanna sacrifice comfort just for the sake of looking good.
Shopping haven. I'm addicted to Zara but I also shop at Dorothy Perkins, Forever 21, and The Ramp.
Fave fashion designer. Karl Lagerfeld and Betsey Johnson!
Always with... a belt! I swear, my belts can make my very simple tee-and-shorts outfit look fab.
Online inspiration. I get inspiration from people in Lookbook and Chictopia. I love watching TV series and I do get inspiration from the characters too like Spencer Hastings from Pretty Little Liars, Jenny Humphrey and Blair Waldorf from Gossip Girl, and Erin Silver and Annie Wilson of 90210.
Style icon. I absolutely love Katy Perry (and her out-of-this-world vintage and pin-up girl outfits!). I also love Jessica Stroup, Shenae Grimes, Taylor Momsen, and Leighton Meester.
Influenced. I'm influenced by fashion blogs, magazines, and my favorite characters from my favorite TV series!
Closet color palette. Mostly black, white, gray and blue.
Never ever! Shirts with plunging necklines and plaid pants.
Basic three. Daisy dukes, high-waisted skirts, and black pumps!
Make a comeback. Shirtwaisters from the '50s!
Vintage owns. I don't own a lot of vintage pieces but my mom gave me her jewelries and some of her first designer bags from long ago. My aunt also gave me these cool skirts she used to wear in the '90s.
ADVERTISEMENT - CONTINUE READING BELOW
Know other stylish girls? Post their links on the comment box below or post in TeenTalk.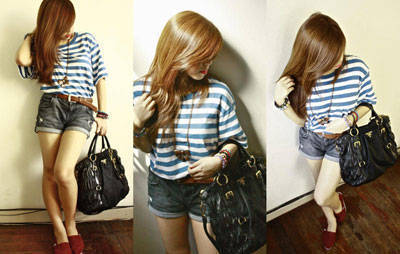 ADVERTISEMENT - CONTINUE READING BELOW