Name: Genevieve Anne Ebio Diocs
Age: 23
City: Naga City
School: University of Nueva Caceres
My style. I'm a certified girly-girl. Pastel, florals, lace, and all sorts of dainty stuff is my thing. But I do experiment my style every now and then.
Shopping fave. Department stores–it's a one-stop shop for everything. I don't mind if they have it in the same style in 15 pieces, I just want convenience in shopping as much as possible.
Style icon. Camille Co is known for her versatility that's why she serves as my style icon. Being able to maximize my wardrobe is my goal to reach Camille Co's styling abilities.
Style influence. My Mom is a huge magazine collector and so was I. I grew up browsing Candy Magazines to update my style and try exciting new trends. Even up to now, I still browse magazines for style inspiration.
Closet colors. Even though I'm a certified girly-girl, I've already outgrown my love for pastel and started investing in other colors. So my closet is pretty much like a rainbow now, although pastel and neutrals still dominate it.
Fave accessory. I love wearing statement necklaces. For me, it hypes up an outfit.
Never wearing. I'm not a fan (and never will be) of baggy elephant pants. I don't like wearing ill-fitting pants also.
Trendy comeback. I love school girl looks and I'm glad that pleated skirts and overalls already made a comeback.
Best bargain. The best bargain buy I've got was a pair of Kryz heels (black cage booties) from So!Fab. I've got them at 75% off.
Vintage love. I had these pearl earrings that I got for a graduation gift from my Aunt. It has been with her for almost 20 yrs already.
ADVERTISEMENT - CONTINUE READING BELOW
Do you want to be the next It Girl on The Web? Fill out the form here.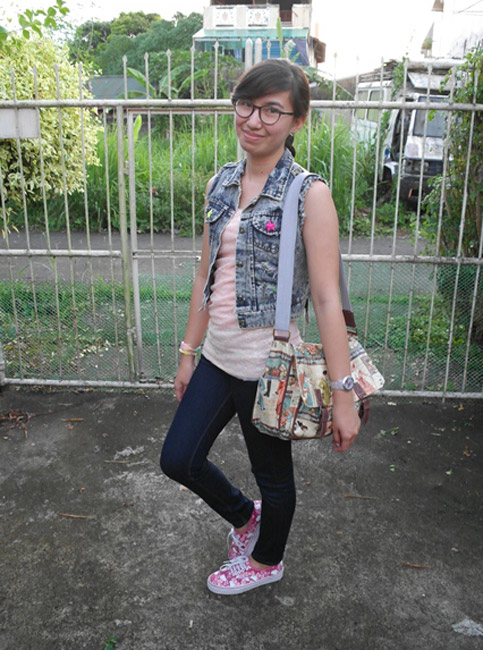 ADVERTISEMENT - CONTINUE READING BELOW