Name: Gela Abores
Age: 21
School: La Salle College International Manila
Hometown: Quezon City
New every day. Generally, I go for the more feminine and romantic pieces, but my preference changes depending on what I'm obsessed with at a certain moment. I don't have a default style, I think. It usually boils down to what feels good for the day. I try not to be predictable, so I don't go exactly with the trends. I make it a point not to wear the same thing in a span of time; but unfortunately, this doesn't always work out, especially when I'm lazy. I always do my best to be comfortable and simple without being too boring!
Shopping addict. Mostly online boutiques or in ukay-ukays (they're the best!). I often check out the stuff at The Ramp and I also go to Topshop, Zara, and Promod whenever there's a sale. I can get terribly random when I buy things, and sometimes end up wearing them only once or twice.
Fave fashion designer. I don't really have a particular favorite. I'm honestly bad at naming designers! I can't tell on the spot which ones are which. Coco Chanel's a classic, obviously. I also recently came across the Marc Jacobs Resort 2011 collection, and I think they're gorgeous!
Outfit always with... Lace and leather! I always incorporate at least one of them in my outfits.
Inspiration. I draw inspiration from everywhere, from my closest friends to random people in the streets to my fellow bloggers. I love how this generation is becoming more and more fashion conscious! I also like taking cues from my favourite TV series (Pushing Daisies and Mad Men have the prettiest wardrobe!), films, and the pictures on my Tumblr dashboard!
Style icon. Oh, there are a lot! I can't possibly choose just one. I adore old Hollywood classics, like Jean Seberg, Anna Karina, Eddie Sedgwick, and who doesn't love Audrey Hepburn? These days, I fancy the styles of Zooey Deschanel, the Olsen twins, Carrey Mulligan, among many others!
Little Miss Dress Up. I suppose my interest in fashion stemmed from when my mom and my yaya used to dress me up in pretty, frilly Sunday dresses when I was little. Eventually, as I grew older, I started picked out my own clothes, and I guess it was all a bit of trial and error for me throughout the years until I figured out what I was comfortable in.
ADVERTISEMENT - CONTINUE READING BELOW
The things that I grew up on definitely helped me discover my "niche" in fashion, like the music I listen to, the people I meet, and the travels and the experiences I've had. Of course, the media and the Internet are always there to screw with my head, too. But my style's mostly based on my constantly changing mood. Whatever I'm feeling for the day, it usually shows in my choice of outfit.
I've never been able to express myself properly through words or actions, especially since I can be painfully shy (really!). I guess I realized that one way I can really do it best without having to actually make an effort is through what I wear. It's a great form of self-expression for me, and it allows me to be more creative and adventurous.
Basic hues. I have a lot of neutrals and nudes. Mostly whites, creams, beiges, and also a bunch of florals. Lately, I've been into white, blue, and gray together though!
No thanks! Crocs and Tube Flops (those flip flops with socks attached on them)! Some can probably pull it off, but they're just not for me. Also, I haven't owned a pair of rubber shoes since my last P.E. class, which was like three years ago. Not because I don't like them, but because I haven't found the need to wear them anymore. (I'm obviously not very sporty. Haha.)
The basics. A good pair of jeans, a white button down shirt, and a tie between a hat and a scarf.
Trend return. Bell-bottoms! Everything that resembles the 70's Woodstock hippie look!
Vintage treasures. I have a few scarves from my mom and jewellery from my lola. I don't know how old they are though. Probably from 30-40 years back?
Visit Gela's blog at http://boatridethroughthesky.blogspot.com
Know other stylish girls? Post their links on the comment box below or post in TeenTalk.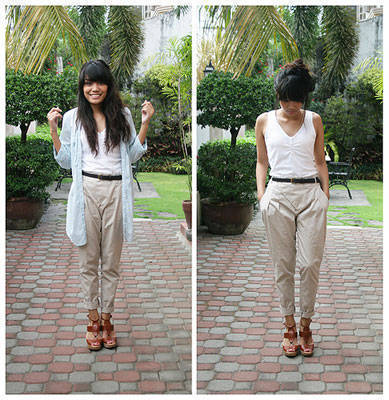 ADVERTISEMENT - CONTINUE READING BELOW