Eclectic mix. I dress up like a librarian-girl-meets-urban-chic-meets-crazy-lady style. I dress up according to my mood. I'm really eclectic and when I dress up I put all my favorite clothes into a pile and jut try to mix them up!

Shopaholics anonymous. I love shopping at thrift stores and/or ukay-ukays. I love finding great stuff in a pile of unwanted things and get it for a very cheap, reasonable price. But of course I also love shopping in malls and I try to mix those vintage finds with new clothes, and I really love the outcome. :) And sometimes, I reinvent a thrift find. I had this vintage floral blue short dress and the top part is really messed up, so I made it into a cute short skirt with a different lining.

Favorite designer.I love Alexander Wang! I love all the fun things he makes, and the line of tees he's making is just pure genius! And like A. Wang, I love Marc By Marc Jacobs it's so fun! So full of life and funky! I also love Alexander McQueen and Nina Ricci! And for the shoe designers, I love Balmain, Balenciega and Prada. Like I could afford it! LOL.

Finishing touch. Either a cute bag or statement shoes. Also accessories for me is a must. Accessories or a bag or a really cute platform shoes makes a plain drab outfit into a fab, fab outfit.

Fashion inspiration. Mostly, my inspiration comes from fashion blogs, I myself own one (http://messyhairandeverythingelse.tumblr.com). I love KarlasCloset.com, SeaofShoes.com, childhoodflames.com, garancedore.fr (for a French fix) and also FlyingAKite.blogspot.com whom I've talked to over the internet and wrote a feature about. Locally, I love Michelle Ordoveza (chicclinic.blogspot.com), who inspired me to do a blog (excluding being bored, LOL). And how could I not forget the gorgeous Noelle Chantal from NoelleChantal.blogspot.com!

Favorite style icon. Like everyone, one of my style icons is Mary Kate Olsen. Edie Sedgwick, Clemence Poesy, Carine Roitfeld, and of course, I love Rachel Zoe.

Style influences. Excluding fashion blogs, I can say everything! From books to magazines. From the street to a really deserted island. From abstract to portraits. From paintings to photos. Everything!

Closet's color palette. I was in this plaid phase, then I also experienced a rock-and-roll, all black phase. Then into the neon-I-can't-see-it's-too-bright phase. My closet is a mix-up of everything, like a colored pencil box.

Never ever. I like faux fur (see www.noellechantal.blogspot.com, I love her take on faux fur!) , but real, authentic fur? No way! If I can be a part of any organization, it would be PETA. Wearing real fur is compared to a clothes thief (you know people who gets clothes from other's clothesline) instead of people's clothes, you're taking off the clothes of those poor, innocent animals. NO TO FUR!

Classic three. A leather bag, rockin' shoes, and a big, ring bling.

Comeback trend. The '70s! The "I-don't-care-how-high-your-platform-is" platforms, the wide legged pants, and peace. I also love to have poodle skirts back again.

Vintage hand-me-downs. My lola gave me her old turntable (?) and red, black-and-white TV. LOL. :)) My mom gave me a vintage clip-on earrings, which is, I think 10 years old. And a plaid dress with a really interesting petticoat. I haven't thought of how to wear it yet.
Know other stylish girls on the Web? Comment down below!
ADVERTISEMENT - CONTINUE READING BELOW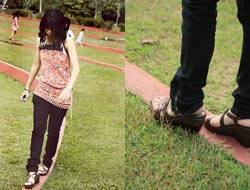 ADVERTISEMENT - CONTINUE READING BELOW