Fashion
Style Files: Erika Tan
Know how Erika mixes and matches her vintage finds from her grandmother and great grandmother.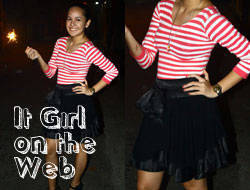 photos courtesy of Erika Tan
Name: Erika Rhane A. Tan/Erix Tan
Age: 17
School: De La Salle University-Manila
Hometown: Quezon City



Simple chick. I'm usually after the laid-back and classy vibe. I'm usually in a skirt/jeans, top and a blazer/cardigan when I go to school. When I have my "lazy days", I usually end up wearing a dress. I don't wear heels to school because I commute, it would be too much of a hassle. I'm usually in flat sandals or sneakers. Occasionally, I wear boots. I don't wear doll shoes a lot because I get blisters. Even though I like staying simple in school, I do like glamming up for family events, special occasions, and other celebrations. 
Shopping haven. Most of my clothes are from Topshop, Zara, People are People, Mango, online stores and ukay-ukays. I love ukay! Great finds at very cheap prices! My favorite shoe store is Charles & Keith. I'm excited for the opening of Forever21 here! I'll definitely be shopping there :-)
Favorite fashion designer. Karl Lagerfeld, Stella McCartney, Marc Jacobs, Kira Plastinina, Vera Wang, Balmain, Christian Louboutin... unfortunately I can't afford any of them!
Always part of the outfit. I always have accessories on. I usually don't leave home without my pearl earrings, navel ring, watch and bracelets/bangles/ballers. Oh, and a smile of course. A smile brightens up any outfit. :-)
Inspired. I get inspired by reading fashion blogs. My favorites would have to be seaofshoes, songofstyle, thestylishwanderer and fashiontoast. I want my blog (pixierixie.blogspot.com) to be as inspiring as theirs! Normally I would have certain pieces of clothing that I would not know how to wear, and I would just visit fashion blogs, Chictopia or Lookbook and look for someone who has the same item and see how they wear it. I wouldn't exactly copy them, but I would base it from the way they wore it. I love going through the style gallery in Chictopia! People there are amazing :-) right now, I'm starting to have a thing for Korean/Tokyo fashion. If only it was cold enough here!
Style icon. I like how simple and classy Selena Gomez's and Rachel Bilson's styles are. They're easy to pull off and are very comfortable, too. I adore Taylor Momsen's edgy style, but it's something that would be hard to pull off in our country. Oh and who wouldn't love the Olsen twins' style? :-)
Influenced by... My style icons, people on Chictopia and Lookbook. Also, I think my way of living and the items I have influenced my style. The way I mix my pieces up, the way I wear them, are all for my own comfort.
Closet palette. I've got a lot of blacks, greys, greens and pinks.
Never ever! A skimpy top with shorts and heels. Anything that'll look too skanky is definitely a no-no!
Stylish three. Plain white shirts, the perfect pair of jeans, and a little black dress
Make a comeback. I love the trends during the 20s, 40s-50s. Big hats, frilly skirts... Corsets. Everything was so sophisticated and glam! I'm glad though, that these trends are coming back. I expected something more avant-garde in the 00's, but it's cool that we're looking back to the old fashion.
Vintage finds. Oooh I've got TONS! Almost half of my closet are vintage stuff! I'm glad my lola kept a lot of her clothes from her teenage years. I've got dresses, trousers, blazers, bags, more dresses, even more blazers! Most of them are from the 60s to 80s. But I've also some stuff that were my greatgrandmother's! My mom was also able to keep some of her clothes but I don't get to use most of it because she was smaller than I am when she was my age. However, we do share clothes now :-)

Know other stylish girls? Post their links on the comment box below or post in TeenTalk.
ADVERTISEMENT - CONTINUE READING BELOW
CONTINUE READING BELOW
Recommended Videos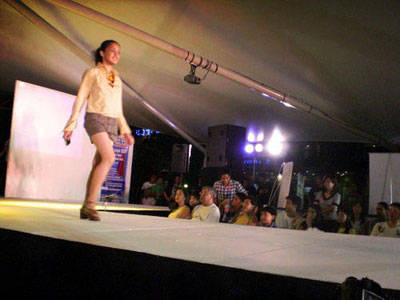 Here's where you can score this bottled chocolate spread.
She may not have won the Miss Universe Philippines crown, but she's no doubt a true queen.
Did you know that Miss Universe Philippines 2020 is a licensed physical therapist?
Life is more fast-paced over there.
The actress is already considering her next project.
You can choose from two sets of cast members.
You can check out home decor, too!
The government agency says, "Suicide is a sensitive and complex issue."
Kakamiss manood ng games!
We got to talk to a public school teacher to share how students, teachers, and even parents are dealing with studying from home.
They basically do all the work for you!
From The Candy Bulletin Community