Name: Elyzel Rabara
Age: 19y/o
School: University of the East Ramon Magsaysay Memorial Medical Center
Hometown: Vigan City
Girly girl. I think my style is very feminine, the type of girl who loves playing dress-up. But I am also a moody dresser, sometimes I try different trends and if I'm comfortable wearing it, I'll probably stock some items inside my closet.
Shopping addict! Bazaars, tiangge, thrift shops and online shops. I love Greenhills tiangge and ebay.ph in particular. Greenhills tiangge offers a wide variety of up-to-date and stylish items in a reasonable price. While ebay.ph offers one-of-a-kind/rare items plus it gives you the hype of bidding. I also love 168 mall, People are People, Forever21, Zara and Topshop. I refrain from splurging too much on clothes unless they are really an investment because as we all know, trends easily change.
Bold and edgy designer. Betsey Johnson, I love how bold, edgy yet feminine her creations.
Cover up. I love blazers! they add spark and boost even to the simplest shirt and even to my school uniform.
Media inspiration. I get inspirations over the net and magazines. Lookbook to be particular. Ever since I joined lookbook.nu I get to see a lot of stylish girls who have adorable taste for style. Girls from Lookbook came from the different fashion capitals of the world, and making the web as their own walk-in closet inspires me to become a self-made model of my own runway show.
Style icon. I like Audrey Hepburn for her sophistication and classy glam. I also like Blaire of Gossip Girl for her very feminine style and the Olsen Twins for the very efforless stylish looks.
Self confidence. During my younger years, I was always insecure of how skinny I was then I discovered how clothes make wonders through the help of magazines, net and real people I encounter. Ever since I got hooked in dressing up. It sort of boost my confidence whenever I love what I'm wearing. And in the process I've learned that it's all about carrying fashion and not fashion carrying you.
Nautical. The staple colors are black/white because it literally goes with everything, red for a little bit fierceness and the pastels for some soft touches.
Never say never. The last time I answered that question, I ate my own word. I learned that fashion is so awesome that it can turn even the most unimaginable and unflattering things to the latest "it" trend!
Stylish three. Nice fitting jeans, plain white shirt, and black pumps
Trend rebirth. Balloon skirts with heavy petticoats!
Vintage hand-me-downs. Fortunately I have some hand-me-down clothes from my mom during her younger years! I have like about 10 vintage pieces but I'm particularly inlove with the red vest embellished by gold buttons which is making a timely comeback to fashion now.
ADVERTISEMENT - CONTINUE READING BELOW
Know other stylish girls? Post their links on the comment box below or post in TeenTalk.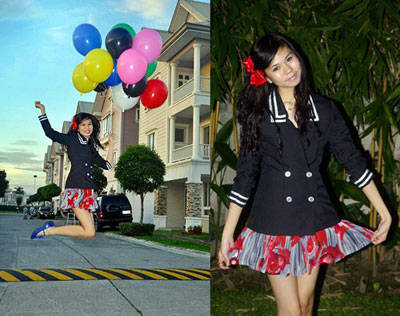 ADVERTISEMENT - CONTINUE READING BELOW