Name: Elise Lim
Age: 20
School: ADMU
Hometown: Manila

One word. Moody.
Shopping haven. In the Philippines, the usual- Zara, Topshop, and Mango. In Hong Kong, H&M and Cotton On.
Favorite fashion designer. I adore Marc Jacobs.
Always part of the outfit. A small gold heart-shaped pendant.
Style inspiration. I find inspiration in music and art.
Navy colors. I love the nautical color scheme- navy, white, red, and sometimes yellow. I also wear a lot of grey and florals.
Never seen. Harem pants- not because they're incredibly horrible to look at. Some people carry them very well, actually. They just don't fit my body right. Haha!
Stylish three. A chanel quilted flap, pearl studs, and a fresh-faced smile.
Vintage finds. Just recently, my mom gave me a black leather sling bag from Italy. It was the very first leather bag she bought. She was my age when she wore it, but she maintained it very well- the leather is still in great condition.
Know other stylish girls? Post their links on the comment box below or post in TeenTalk.

ADVERTISEMENT - CONTINUE READING BELOW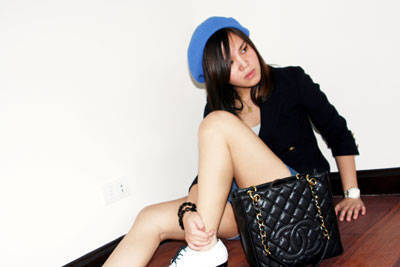 ADVERTISEMENT - CONTINUE READING BELOW