Name: Dominique Marie Man Tiu
Age: 20
School: Ateneo de Manila University
Hometown: Cebu, Philippines
Wear your heart on your sleeve.
Describing my style would be hard because I'm very fickle. I guess the entire basis for my style would be what I think is aesthetically appealing and easy to work with. I don't usually discount trends anymore and I don't orient myself to merely high-fashion brands. I used to be just plain minimalist and classic but eventually, I decided to broaden my scope to mod, nautical, boho, folk, and art deco. I think I'm quite open to other styles in general—I wear what I feel like wearing without compromising modesty, comfort, and my confidence.
Not a picky shopper.
I shop just about everywhere—I'm a shopaholic. I would shop at high end stores and I would shop at bazaars. However, there are stores I patronize because they're staples and you could never go wrong with them like: Zara, Topshop, Mango, Warehouse, H&M, Culte Femme, Dorothy Perkins, Tomato, Plains and Prints, Chloe, BCBG Max Azria, Ralph Lauren, and Marc Jacobs.
Fancy designers.
I love a lot of them. I guess it just depends on the occasion. For casual everyday outfits with a little quirky edge, I'm quite fond of Marc Jacobs, Thakoon, Derek Lam, Missoni, Stella McCartney, and Philip Lim. For full-blown outfits, I love Zac Posen, Nicholas Ghesquiere, Alexander McQueen, and a dozen more, quite frankly.
Fashion staples.
Good underwear (no, seriously), chic shoes, and a bag. Now that I think about it, more than the shoes, I always have a bag with me. It doesn't have to be trendy and it doesn't have to be branded but I believe it has to look classic and it has to be durable enough to hold all your stuff. I don't know, the one thing I noticed with bags is that it often reflects the owner—how the type of bag you own reflects your aesthetics as an individual.
Friends inspire.
My friends are my inspiration, they always come up with the most note-worthy themes; they also foster all types of information, and they're the best sources of good finds. On another note, catalogues of product shots, magazines, and runway shows are good inspirations as well.
Old Hollywood style.
This is quite hard to think about—there's always that timeless classic and I guess 99% of girls would agree when I say that Audrey Hepburn is way up there in the pedestal.  I believe Veronica Lake and Grace Kelly are noteworthy fashion icons as well. I very much liked Twiggy's style and Edie Sedgwick, too.
Trendy style.
I'm not entirely sure, I guess trends are a factor—trends borne out of Hollywood, runway shows, basically all media—everything as discussed above.
A box of crayons.
I'd like to believe my closet is a box of crayons in itself. I don't think it's devoid of any color. I do have dominating colors—usual staples such as shades of black, white, grey, and brown. I also have a lot of reds (because I am part Chinese, it's actually very handy), emeralds, mauve, champagne, yellow (earth tones)—just about everything actually. I think I need to deck my closet with pastels though because I really don't have any of those.
Never say never.
Denim jackets—I don't know why but I hate them with a passion. I don't mind denim dresses, denim skirts, denim shorts, or denim pants but anything on top is just very strange for me. However, I learned not to rule out a lot of things since half the time, I always end up eating my own words (like my former dislike for tights, wedges, and drop-crotch trousers).
Three top must-haves.
The little black dress for the evening, that little white dress for the mornings, and a wonderful bag that reflects your personality.
Fashion flashback.
If I had it my way, I think I'd want pillbox hats. Or the fact that people in the twenties wore ankle-length dresses just for a normal day at the grocer's?
Old is the new new.
I actually get a lot of vintage stuff—belts, bags, necklaces, and tailored dresses. I don't usually make it a point to ask how old but I know for a fact that they're in tip-top shape.
ADVERTISEMENT - CONTINUE READING BELOW
Know of stylish teens on the web? Comment down below!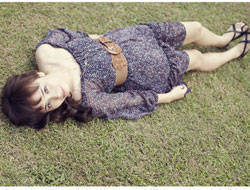 ADVERTISEMENT - CONTINUE READING BELOW