Name: Daphne Benosa
Age: 24
City: Quezon City
School: UP Diliman
Style spectrum. My style is bipolar. I don't really subscribe to any particular style. What I wear for the day depends on my mood. Although I must say I cannot pull off goth/punky styles.
Shopping faves. I always shop in Forever 21 when I get the chance to go out. If I don't get to go out, I always end up shopping online. Miss Sartorial, Antler, Lime Pink, and Ode to Her are the shops I frequent online.
Style icons. I've always adored Emma Stone and Jennifer Lawrence's style. Both of them have impeccable taste.
Influenced. When I was younger, I would always watch Fashion TV for inspiration.
In my closet. My clothes are mostly in shades of nude, coral, and pink.
Accessorize. I'm not really big on accessories. But, when I do wear one, I make sure to use adorable hair clips.
Not never. I've had a lot of fashion misses. I'm pretty sure a lot of people have seen me wearing fashion no-no's. But that's alright because I don't really think too much about it. As long as I'm comfortable in what I'm wearing, I'm fine.
Trendy revival. I would definitely love it if Mod comes back in fashion!
What a steal. A pair of shoes from Marks & Spencer for only P150 at a thrift shop and an H&M sweater for only P50. Great steals right?
ADVERTISEMENT - CONTINUE READING BELOW
Do you want to be the next It Girl on The Web? Fill out the form here.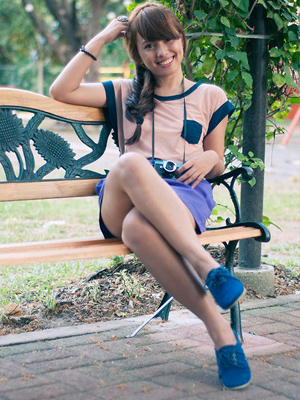 ADVERTISEMENT - CONTINUE READING BELOW