Name: Dang Faustino
Age: 25
School: Philippine School of Business Administration Q.C.
Hometown: Quezon City
Distinctive Style. Relaxed and street chic but always with a certain je ne sais quoi.
Shopping store choice. I shop at Zara, Mango, People are People, and the Ramp. I also love SM Department Store and The Landmark. Thrift stores, my mom's and grandma's closets for one-of-a-kind vintage pieces. I love my uncle's closet too for menswear chic finds.
Fave Fashion Designer. Basically, I am obsessed with Chanel. Being a bag person, I love Balenciaga and Marc Jacobs, too. I think the pieces from Balmain are always statement pieces no matter how basic it may seem to be. You will know with just one look that a piece of clothing is from Balmain and I think that is amazing. Locally, I love Charina Sarte and Kate Torralba because they know how to make tropical living look so chic!
Always part of the outfit. Cocktail rings, twisted or braided hair to the side ala-LC and hair that is a little messed up.
Inspired. I'm inspired by fellow bloggers. I love Andy Torres, Karla Derass, and our very own Kookie Buhain. I call them "human bloggers" because their styles and outfits are very wearable yet chic. I'm also inspired by the street styles in Europe particularly Stockholm.
Style Icon. I think Nicole Richie's style has evolved throughout the years that she mastered looking like a million bucks even with just a plain white v-neck shirt. Locally, I love Manika Yujuico, Bea Soriano, Liz Uy, Pam Quinones, and Belle Daza.
Style influence. Being around people who love fashion as much as I do is the best thing in the world. My lola sews like a mad woman transforming skirts into dresses even before stylists have made this styling strategy a no brainer. My mom and sister have always been staunch supporters of fashion, too.
Neutral with a twist. I stick to the neutrals like gray, white, black and brown. I do love a touch of sparkle though like gold and silver.
Never seen in... A souvenir shirt can be worn as a pambahay but never as a pang-alis.
Stylish three. Plain white shirt/tank top, blazer, and a great pair of jeans.
Make a comeback. Cigarette pants ala-Audrey Hepburn.
Vintage Finds. There are so many! My mom and my lola's closets are pieces of heaven for me. My favorite thing from my mom's closet would have to be this gray boyfriend blazer she said she had custom-made when she was younger. From my lola's closet, all the hype is for the leopard blazer. More or less both are about 30-40 years old.
Know other stylish girls? Post their links on the comment box below or post in TeenTalk.

ADVERTISEMENT - CONTINUE READING BELOW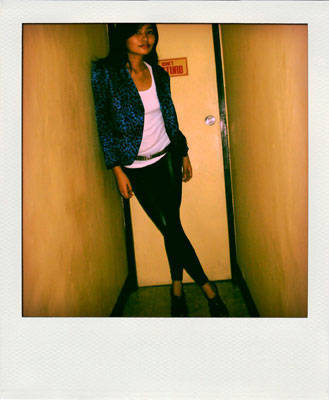 ADVERTISEMENT - CONTINUE READING BELOW