Name: Cyril Lumboy
Age: 21
School: UP Diliman
Hometown: Makati

All about Lolita. My style is greatly inspired by the Japanese street fashion genre, Lolita. While I do not wear this style on a regular basis, my everyday look is still Lolita though a bit played down. Usually, I go for a simpler, more casual Lolita look. A bright, printed one-piece dress worn with a medium poof petticoat does the trick. When I'm feeling a bit boyish, I put on my favorite plaid polo shirt and ankle boots to achieve a somewhat punk-inspired look.
Shopping haven. I usually make my dresses but I do like shopping at Genevieve Gozum and Y.R.Y.S. since they carry Lolita-ish and punk apparel. Other than that, I would often opt for my favorite thrift shops.
Fashion designer. While it has only been recent that I have learned about him, I adore Alexander McQueen. I love how fantastical his works are. Anne Sui, on the other hand, adds the cuteness to my life.
Poofy skirt. When I'm in a dress, I make sure to always wear a petticoat underneath. I seriously can't live without a petticoat. A dress is dead if it doesn't have that extra flair a petticoat achieves.
Japanese-inspired. I take my inspiration from the Japanese fashion Lolita, which in turn, takes its inspiration from the Victorian and Rococo era – flamboyant and frilly dresses made poofy by petticoats and hoopskirts. Lolita could be further divided into different substyles: the cutesy and girly Sweet Lolita, the boyish and rugged Punk Lolita, the elegant and more mature Classic Lolita, the oriental Wa Lolita, the nautical Sailor Lolita, the sexy Ero Lolita – the list goes on.
Style icon. I consider Lady Gaga as "the" style icon. I love how outrageously original she is. I look up to her for emphasizing the freedom that should be in fashion. Another would be Gwen Stefani and her version of the Harajuku look.
Victorian style. I've always been in love with the Victorian and Rococo era. I simply, simply love the elegance and extravagance captured in both of the periods' fashion. This love has also been influenced and strengthened by my interest in Anne Rice's The Vampire Chronicles, wherein most of the characters belong to the said eras. Through to Lolita, I could somewhat re-live and enjoy the Victorian/Rococo times through clothing.
Color palette. I guess I have all the colors in my closet. I keep bright and bubbly colored dresses. When it comes to my plaid collection though, I like the classic red and black combination.
Never ever! I would never wear micromini skirts/shorts alone and/or paired with leggings.
Basic 3. That's got to be oversized tees, denim shorts, and printed dresses.
Comeback, trend! Hoopskirts! I hope somebody invents a way to make them wearable enough for everyday.
Thrift store finds. I don't have anything old but I very much prize my pair of Vivienne Westwood rockinghorse shoes which I got for 50 bucks!
ADVERTISEMENT - CONTINUE READING BELOW
Know other stylish girls? Post their links on the comment box below or post in TeenTalk.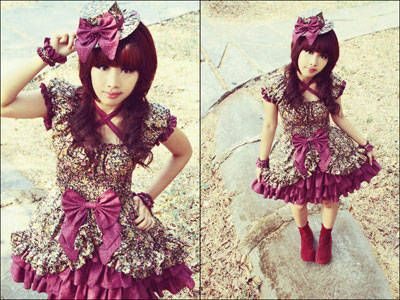 ADVERTISEMENT - CONTINUE READING BELOW