Name: Christianne Narisma Patay
Age: 17
City: Cagayan de Oro
School: University of San Carlos
My style is definitely moody. It depends on the weather and where I'm going. I can dress up from rocker chic to ultra feminine—it's that unpredictable, although I never compromise my outfit when it comes to comfort. I also try different trends from time to time and I try to give it my own twist as well!
Shopping musts. I love department stores! I also frequent Promod, Mango, Forever 21, and some local stores. I also go thrift shopping when I have the time. But, whenever I'm lazy or if I don't find what I'm looking for, I usually go online shopping.
Style icon. I like Alexa Chung, Lauren Conrad, and Miranda Kerr for their classy yet effortlessly chic looks!
Stylish influence. Television shows, movies, fashion blogs, magazines—almost anything really!
Closet colors. Actually, I think I have a bit of everything in my closet. But my closet is mostly black, white, and pastel colors.
Favorite accessories. Necklaces and shoes, definitely! They can easily spice up any outfit. Recently though, I've gotten over my "excessorizing" stage so now I pretty much just sport my Nine West studded watch for everyday wear! It doubles as a watch and a bangle.
Not wearing. I don't want to close my doors to certain types of clothing but if there's something I don't have the guts to wear, it's probably daisy dukes. I think they're just too short and there's jusr not enough coverage for the whole behind!
Trendy return. Overalls! I think with a bit of tweaking and updating, they would make an even bigger comeback.
Best bargain buy. My best bargain buy would be this awesome sheer, oversized polo which I got for P15.
Vintage loving. I like looking through my mom's closet sometimes and I usually take her dresses and skirts from when she was still young.
ADVERTISEMENT - CONTINUE READING BELOW
Do you want to be the next It Girl on The Web? Fill out the form here.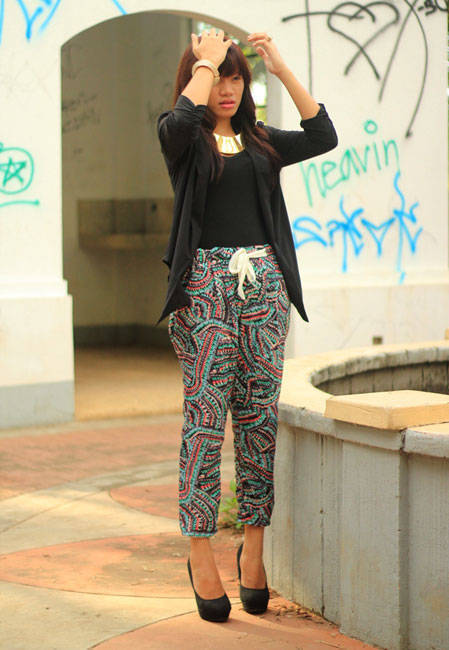 ADVERTISEMENT - CONTINUE READING BELOW