Name: China Francisco
Age: 20
School: Assumption College
Hometown: Manila

No certain style. My style varies a lot. I'm all about being diverse and eclectic.
Shopping haven. Zara, Tyler, Massimo Dutti, Rustans, Topshop, Mango
Always part of the outfit. A smile! You are never fully dressed without a smile! Haha! My pearl earrings.
Fashion inspiration. Music, fashion shows, editorials, and fashion bloggers
Style icons. I have a lot. My local style icons are Ornusa Cadness, Pam Quiñones, Martine Cajucom, Kato Chua, and Georcelle Dapat. And my foreign style icons are the Olsen twins, Nicole Ritchie, Kate Moss, Rumi Neely, Olivia Lopez, and of course Audrey Hepburn.
Influenced. I think it is the fact that I am the only girl in the family. When I was younger I always preferred wearing dresses and not pants because my brothers already wore pants. There were also times when I wore dresses and sandals during play because all of my playmates wore shorts and slippers. I already wanted to dress well, be different (in a good way) and stand out at an early age.
Never seen in. Something overly revealing
The basics. Perfect fitting jeans, white button down polo, and a classic bag
Trend comeback. Maybe anything from the 20's-60's
Vintage owns. I have dresses, blazers, bags, necklaces from my mom and shades from my lola. I don't know how old they are though.


Know other stylish girls? Post their links on the comment box below or post in TeenTalk.

ADVERTISEMENT - CONTINUE READING BELOW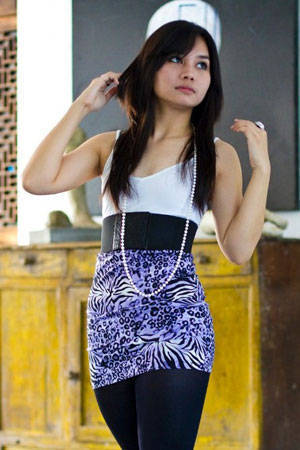 ADVERTISEMENT - CONTINUE READING BELOW