Name: Noelle Chantal Roquero (you can call me Chantal for short)
School: I studied at University of Santo Tomas since elementary, high school and 2 years in the College of Music and finished Business Management in Colegio de San Juan de Letran
Hometown: I prefer living in Manila and once in a while visit my Bulacan province.
Summer hippie.
I describe my style as a dreamy hippie meets chic quirky on a sunny summer day. I must say that my style reflects my fun love for the beach. We are very lucky to be in this side of the world with an eternal summer!
Shop attack.
I can never go wrong with Mango, Topshop, Zara and department stores. But most of my jackpot finds are bought from thrift stores here in Manila and in Bulacan. I like vintage and I'm a self-confessed thrift store addict! My heart skipped a beat when I found a Tsumori Chisato bubble dress for P130 only! Totally a great find!
Favorite fashion designers.
Tsumori Chisato for her lovely bubbly designs and Diane Von Furstenberg for the beautiful dresses she makes that every woman would love to wear. And nothing beats Patis Tesoro for her very vintage looking and interesting pieces she creates.
Outfit complete.
I've been wearing regularly this Tag Heuer gold watch my dad gave me and I've been carrying this tiny little LV bag from my mom. Definitely my most used and cherished pieces.
Inspire me.
Anything can inspire me! Whether it's an old photo, a glossy magazine, an art, a dreamy place, a stylish person I see on the street or a model on the runway. Fashion is here, there, and almost everywhere!
Mommy style icon.
My mom is my ultimate style icon. She is the best when it comes to fashion. When I was little, I am very much amazed how perfect her makeup is, how stylish her clothes and accessories are and how beautiful and stunning she is every single day
.

Style influences.
It's a combo of travel and art that influenced my style a lot. Discovering beautiful places and passion for dancing and singing makes my heart beat faster.
Closet's color palette.
My closet is painted with earth tone colors. Lots of white, beige, brown, black, blue, grey and green pieces. Layering textures and mixing colorful prints makes me and my closet happy.
Never ever.
Definitely panty line on fitted pants, skirts, or shorts. It bothers me.
Stylish three.
Classic dress, perfect denim pants and comfy heels. Plus, confidence.
Acid crazy.
It's very interesting that the acid-washed denims are making a comeback and the-crazier-the-higher-the-better trend on shoes are stepping too!
Old school.
I have lots of vintage accessories from my mom.  A 15 year old intricate wood necklace and very old vintage bags like a Christian Dior purse are my most treasured pieces.
ADVERTISEMENT - CONTINUE READING BELOW
Know other stylish girls on the Web? Comment down below!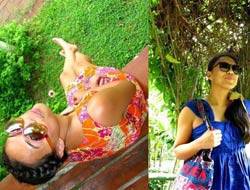 ADVERTISEMENT - CONTINUE READING BELOW