Name: Carla Geronimo
Age: 20
School: De La Salle University
Hometown: Quezon City
Mood dresser. My style depends entirely on my mood. I could go girly for a day and edgy the next. I try to avoid the punk/rock look though.
Shopping turfs. I go to Topshop and Zara most of the time. Mango and Promod, on the other hand, are stores that I check out from time to time. However, I must say, I'm a big fan of tiangge/bazaars as well! I like stumbling into good finds. Makes me feel great... and my wallet too!
Fave fashion designer. Coco Chanel is currently holding the spot.
Accessorize. Rings, most definitely! If not that, then necklaces would be next.
Inspired. I surf the net everyday and get ideas from almost everybody. There's no single thing or person that I consider as an inspiration 'cause like I said, my style depends on my mood and so would be what inspires me.
Style icon. Tough question! I like Mary Kate and Ashley Olsen. I'm speechless when it comes to their style. Totally hands down! Rugged but still well put together. Unbelievable how they pull it off every single time.
Influenced by. Probably anything and everything I see around me. Either I'm wearing black or bursting with colors... again, my mood dictates how I'll be.
Monochromatic. Mostly black. It's a safe color to wear for me. Neutral but at the same time has that oomph to it.
Comfort above all else. I honestly don't have an answer for this one 'cause I'm a bit adventurous when it comes to clothes. I'll wear whatever as long as I'm comfortable in it. May it be a cropped tee, harem pants, Dr. Martens... stuff that some people don't feel like sporting.
Stylish three. Little black dress, white tank top, and a good pair of jeans.
Vintage finds. I got a vintage red Chanel bag from my mom. I don't know how old is it exactly but I think five to seven years older than me. Aside from that, most hand-me-downs are accessories. I'm deeply in love with them.
Know other stylish girls? Post their links on the comment box below or post in TeenTalk.

ADVERTISEMENT - CONTINUE READING BELOW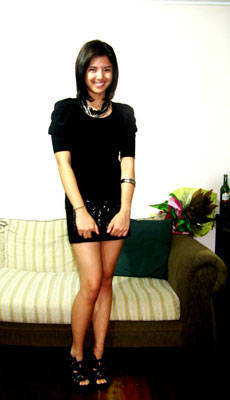 ADVERTISEMENT - CONTINUE READING BELOW