Name: Alissa Leigh
Age: 19
City: Paranaque
Style evolution. I'd say my style is constantly evolving. My choice in clothing depends on what inspires me at the moment. I used to be into retro, pin-up girl fashion a la Zooey Deschanel and Katy Perry. Recently, I find myself gravitating towards pieces with a grunge or bohemian feel.
Shopping go-to. Bazaars are my heaven. It's a great place to find really unique and quirky stuff. I also frequent The Ramp/Crossings, Forever 21, Topshop, Oxygen, Tomato, and SM Department store.
Style icons. Chloe Sevigny has such an impeccable sense of style. I'm totally lusting after everything from her line for Opening Ceremony. I've also always looked up to Rumi Neely of Fashiontoast.com. She was one of the first style bloggers I discovered. She also served as my latest "hair-spiration" with my ombre hair. Blogger and Ford Model Jennifer Humphrey's boho, rocker chic style is also always inspirational.
Influential. I like browsing through various fashion editorials from different magazines and a variety of photography and style blogs. I also find that music and film somewhat play a role when it comes to influencing my style.
Closet colors. The pieces in my wardrobe are predominantly black. Black is such a classic yet versatile color. I almost always have something black in my outfits.
Accessorize. Statement necklaces are great. They can turn the simplest ensemble into something really interesting. They have become an outfit staple for my "lazy days." I also like to enhance an outfit with an appropriate shade of lipstick.
Trendy return. I would love for plaid skirts to become the in thing again. Just like the one Liv Tyler wore in Empire Records.
What a bargain. This necklace I got from a store called A'postrophe. It had a fleet of metal sparrows which reminded me of the prints in Miu Miu's S/S 2010 collection and it was 50% off!!
Vintage feel. I love raiding my grandmom's old clothes closet. I've acquired a considerable amount of clothing from her which I now proudly call my own.
ADVERTISEMENT - CONTINUE READING BELOW
Do you want to be the next It Girl on The Web? Fill out a form here.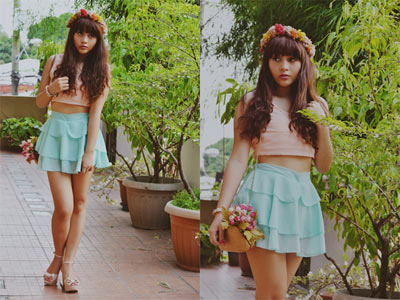 ADVERTISEMENT - CONTINUE READING BELOW