Name: Aisa Ipac
Age: 21
School: UST
Hometown: Manila
Fashion style. It borders from casual glam to whimsical.
Ukay queen. Thrift shops! :) I'm also a huge fan of online shopping (ebay, Multiply, and now, Facebook). I'm a fan of mixing thrifted pieces with high end ones.
Fave fashion designers. Stella McCartney (i love her creations--they're so me!), Karl Lagerfield (classic pieces that could live forever), Betsey Johnson (fun quirky whimsical), Christophe Decarnin for Balmain (edgy glam).
Always wearing... My all black watch. Can't live without it!
Inspired. I have a lot of inspirations--from fashion bloggers, to runway shows, the weather, my mood, music. A lot. :)
Style icon. Agyness Deyn, Nicole Richie, Rachel Bilson.
Online influence. Fashion communities such as Chictopia.com, Weardrobe, Lookbook. I've gone all out in dressing up because of them. It's fun to see & interact with people across the globe who have the same level of enthusiasm when it comes to fashion. :)
Color palette. blacks, whites, beiges, and all the other colors. I love colors especially yellow!
No no! Never say never but--colored skinny jeans.
The basics. Perfect white shirt, good denim pants, little black dress
Vintage hand-me-downs. Yes, a lot! I have this cute yellow printed bag I got when I raided my grandmother's closet. It's older than me. Maybe 40+ years old. I also have a few cute dresses (which I of course altered) from my lola. I scored a nice vintage Moschino cheap & chip blazer and a gorgeous Versace purse from a thrift shop.
ADVERTISEMENT - CONTINUE READING BELOW
Know other stylish girls? Post their links on the comment box below or post in TeenTalk.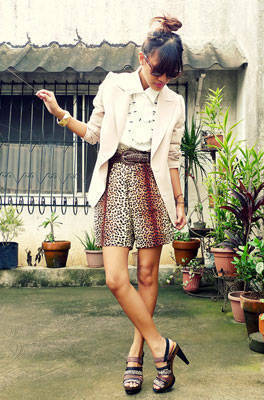 ADVERTISEMENT - CONTINUE READING BELOW