Name: Kaye Razon
Age: 20
School: UST
Hometown: Quezon City
Trend watcher. My style screams "me". I dress up according to my mood, and the place where I'm going to. I'm fan of MOST of the trends, however, I still put comfort at the top of my list. and I pretty much believe in what Rachel Zoe says, that your style tells a lot about who you are, without having to say a word.
Shopping haunt. I shop wherever the good stuffs are, from malls to online stores and thrift stores. I love clothes from Warehouse, Topshop, Dorothy Perkins, Zara TRF, Forever 21, and the list goes on. I'm currently loving Topshop's 2010 Spring collection.
Fave designer. I love the two alexanders: Wang and Mcqueen, (may he rest in peace) Yves Henri Donat Mathieu-Saint Laurent (YSL), Cristobal Balenciaga, and Prada.
Inspired. I try to recreate fashion from the runway sometimes, and from friends over at Chictopia.
Style icon. my childhood friend, Carla Lopez! She dresses up really well.
Art influence. When I was younger, I never really cared about dressing up, but when I entered college (and since I'm a Fine Arts student) I got exposed and inspired with all the "artsy" things around me and there I started enjoying fashion.
Basic hues. I get down on most of the basic and neutral colors. I also like to play around with fun, eccentric colors and prints too!
Never ever! rubber/jelly shoes.
Stylish three. LBD's, skirts of different styles, motorcycle jackets.
Make a comeback. If it were possible to make it look like a casual outfit, victorian dresses, and 1950's fashion.
ADVERTISEMENT - CONTINUE READING BELOW
Know other stylish girls? Post their links on the comment box below or post in TeenTalk.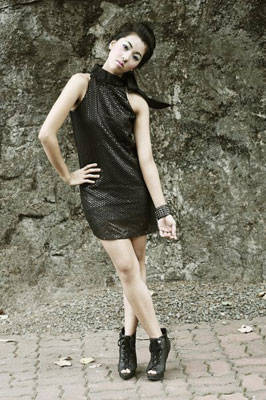 ADVERTISEMENT - CONTINUE READING BELOW