Name: Gia Jamias
Age: 18
School: Ateneo de Manila University
Hometown: Paranaque
Consistently inconsistent. I dress according to my mood and occasion. I can be girly then rocker-ish the next day… I usually dress in blacks, whites and greys; I take generic outfits (like white tee, denim bottom) and spice them up a bit and I like to layer a lot.
Mango lover. I have a weakness for Mango. If I go into a Mango outlet, I never come out empty handed! I also love Topshop and bazaars. Bazaars are the best places to find a variety of bargains!
Fave fashion designers. Valentino, Ralph Lauren, Marchesa!
Always part of the outfit. A long vintage necklace!
Inspiration. I go to sites such as lookbook.nu. It's amazing what outfits other people come up with! I have a couple of stylish friends also! They inspire me to add more 'oomph' into my outfits and I get ideas from them as well. I also get ideas from Gossip Girl, 90210, The City and The Hills! They all wear such awesome clothes!
Style icon. Taylor Momsen! I love, love, love her style! From the color scheme, her accessories to the way she layers. I try to channel her style sometimes but in a less rocker version.
Closet's palette. Mostly black, white and grey! They're easier to pair up with other clothing pieces, especially since I love to layer. But I probably have an almost equivalent amount of prints and popping colors, I just don't wear them as often.
Never ever! Crocs! I know they're comfy and all, but I can't imagine myself slipping on a pair.
The basic three. A little black dress, plain white v-neck tee and a black leather jacket.
Comeback trend. The 80s were pretty awesome so anything form that era wold be awesome! Army prints and its color scheme are currently making a crazy comeback! Gisele Bundchen just did an army themed spread in Vogue Korea and Mango's summer line showcased army colors!
Vintage finds. Sadly, the fashion bug only hit my generation so there aren't really much clothing items that I have from my Mom and Lola. I do however have classic and vintage jewelry pieces from them! I guess they were more fond of accessories!
ADVERTISEMENT - CONTINUE READING BELOW
Know other stylish girls? Post their links on the comment box below or post in TeenTalk.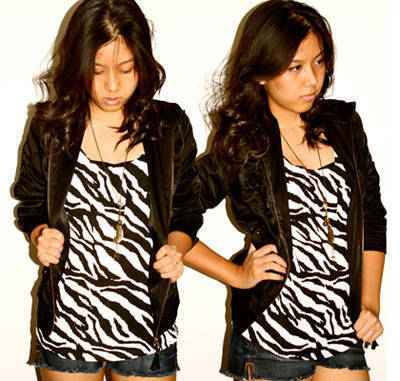 ADVERTISEMENT - CONTINUE READING BELOW