Mixing different trends, styles, prints, and silhouettes is more than half the fun of fashion. It's all about finding the balance when matching different pieces together while being true to your own personal style. This summer, there's a wide variety of trends for you to experiment with but we find that making the black-and-white trend more summer appropriate might possibly be the most challenging one! Since we love a good fashion challenge and we know you do too, we thought of pairing this summer trend with a classic print—florals! The soft and colorful touch of floral prints can instantly brighten up any black and white ensemble for the summer. Here are five looks that you can use as style inspiration when it comes to sporting this fashion combo: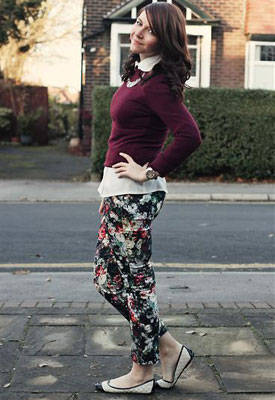 photo via Lookbook
ADVERTISEMENT - CONTINUE READING BELOW
ADVERTISEMENT - CONTINUE READING BELOW
Preppy. Floral pants were a big trend last season and they're still perfect to wear this summer! Make it the focal point of your look by simply wearing a white button down over it, with matching black and white quilted flats. If you're looking to brighten up this look, layer on a complementary colored tee or go with stacks of colored bracelets.