Name: Stephanie Pastrana
Age: 16
City: Bulacan
School: University of Santo Tomas
Ever-changing style. I would describe my style as very random and unpredictable. I don't stick to one particular style. I can be dressed in head-to-toe black one day, then be dressed in different shades of pink the next.
Shopping musts. Almost everything in my closet is from Forever 21. I love that they have a wide selection of trendy and classic pieces. They basically have everything you need!
Style icon. Definitely Blair Waldorf. I love her classy style. I also adore Miley's edgy style at the same time.
Influenced. Gossip Girl is really a big influence on my style. Seeing all their pretty clothes made me want to dress up more.
Closet palette. Most of my clothes are black, grey, pink, purple and blue.
Accessory musts. I always need to wear bracelets and bangles
No way! I would never be caught wearing any neon green or neon yellow piece of clothing. I don't think I could pull it off. Structured skirts are also a no-no because they would emphasize my big hips.
Trendy revival. I can't think of a particular trend I'd like to make a come back because a lot of trends are back nowadays.
Bargain buy. Cute heart-shaped bracelets for only Php 80!
Vintage loving. I have a small Coach purse from my great aunt that I love to wear!
ADVERTISEMENT - CONTINUE READING BELOW
Do you want to be the next It Girl on The Web? Fill out the form here.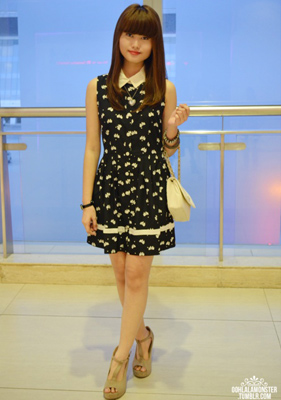 ADVERTISEMENT - CONTINUE READING BELOW