So you're going on a road trip. You've got your essentials packed: swimsuit, sunblock/tanning oil, and stack of Candy magazines you're dying to re-read. But wait, what's that, no sunglasses? Oh, you don't want to look like everyone else with those oh-so hipster wayfarers. Who said you had to look like them?

Enter ShinyHappyPeople who give you customized sunnies that are sure to make you stand out in a crowd. Each pair lovingly hand painted to reflect your personality! For only P500, shield the sun and frame the fun.

For orders, leave the ShinyHappyPeople a message on their site or contact them through 0920-955-0596.
ADVERTISEMENT - CONTINUE READING BELOW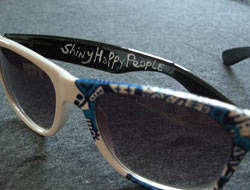 ADVERTISEMENT - CONTINUE READING BELOW