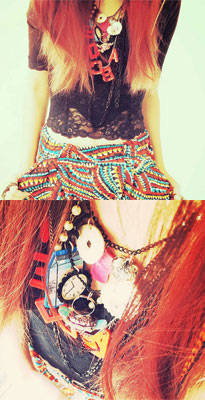 Known as a quirky dresser, Reese Lansangan never fails to put a smile on our faces with her unique and colorful style. We love her Gingersnaps trinket necklace because it fits her style perfectly. The colorful and cute details of her necklace gave a different twist to her look. She wore her necklace with a thrifted top and espadrilles, pants from Thailand, and Elan Bijoux rings.

You can make your own trinket accessory, too! Rummage through your drawers and look for fun items like lego blocks, keychains, or little toys you can use. Arrange them side by side to get an idea of how your necklace will look. Get your old chain and insert it through the loops of your trinkets. If there's none, poke a little hole big enough for your chain to get through. The more random the trinkets, the better.

What kind if things would you use to make your own charm accessory? Share them with us. Or better yet, post a picture of your creation!
ADVERTISEMENT - CONTINUE READING BELOW