Having no uniforms and dress codes is one of the many reasons why PUPians choose to study at the Polytechnic University of the Philippines (PUP) in the first place. Aside from saving money from buying uniforms, PUP allows their students the freedom to express themselves and wear whatever they feel comfortable with. However, it could also be stressful to choose your OOTDs every day for school. 
If you're planning to study at PUP or are currently a PUPian struggling to find cute fits, here are some things you should probably know about the ~PUPian aesthetic~.
1. Prioritizing heat and commute-friendly clothing
Filipinos are no strangers to heat, but PUP is a whole new different level of ~hell on Earth~. In planning their outfits, PUPians prioritize comfort over style to avoid feeling irritated with the changing weather. But for those who love to dress up, they can pull off both comfort and style any day.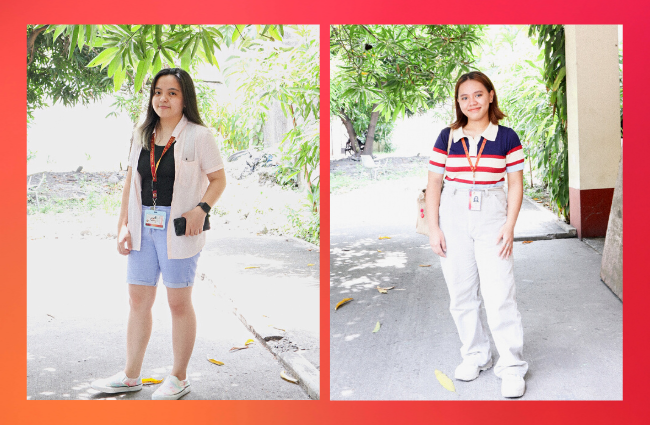 On a hot sunny day, broadcasting major Maeryll Loise Quijada rocked on her skinny Bermuda shorts along with a black sleeveless. For a bit of arm coverage, she also topped it off with a cream-colored short-sleeved button-up. Meanwhile, Mary Bernadeth Limbo, a Communication Research freshie, opted for an easy casual look with a tucked-in striped polo and white baggy jeans. As commuters, they both settled for a pair of sneakers for a convenient walk-trip to and from the campus. 
ADVERTISEMENT - CONTINUE READING BELOW
2. Working with easy-to-style basic pieces
Shopping for school clothes can be a struggle, especially for PUPians on a tight budget. And to those who still struggle to find their style, it could also be time-consuming on a hectic school day. This is why investing in basic pieces can save you a lot of time and money. In addition, having a go-to plain shirt can go a long way through the power of *layering*.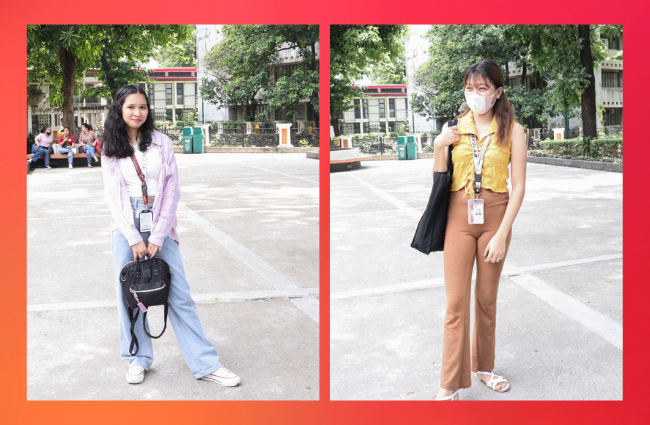 For inspiration, these two Communication Research classmates both stylishly enhanced their OOTDs by mixing and matching basic pieces. Taking her plain white cropped top and jeans to the next level, Gale Fernandez decided to add a pastel pink and blue plaid flannel. To bring the focal point to her yellow ruched sleeveless top, Laica Macuha cutely matched it with her plain brown bell bottoms ?? creating a semi-monochromatic fit. 
3. Liberating and self-expressive fashion
No dress code means fashion freedom for Gen Zs. In PUP, students get to wear anything from shorts and skirts to sleeveless tops and crop tops. This not only allows PUPians to creatively express their style and uniqueness but also gives queers and cross-dressers the freedom they deserve. Aside from this, not being forced to wear uniforms makes it easy for PUPians to adjust their OOTDS to the current weather. I mean, who enjoys wearing an all-white uniform during the rainy season? 
ADVERTISEMENT - CONTINUE READING BELOW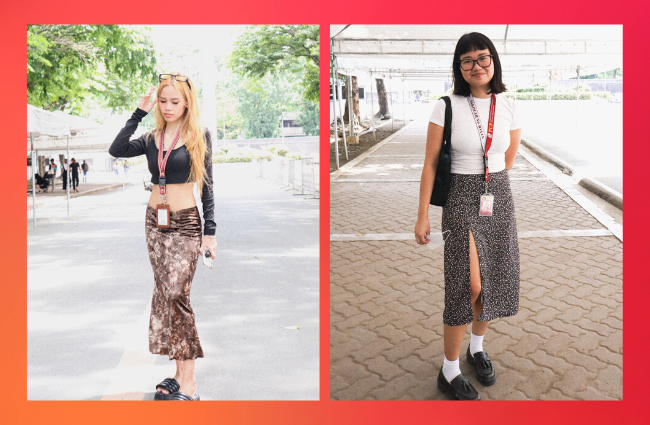 Both Lalaine Madriaga and Renee Espayos slayed the PUP catwalk with their simple yet stunning ensemble. With their skirts as statement pieces, they opted for a plain cropped top to easily match their printed bottoms. Lalaine, a Communication Research student, went for a sexy look, showing off her hourglass figure and cute belly-button ring. Following the silhouette of her long skirt, she topped it with a black long-sleeved cropped top and a pair of comfortable slides. On the other hand, the English Language student, Renee, is literally giving ~English major vibes~ bookworm vibes with her midi slit skirt and plain white semi-cropped top. 
ADVERTISEMENT - CONTINUE READING BELOW
4. A splash of color never hurts
From their expressive and bright personality to their choice of clothing, PUPians are quite colorfully bright young people. However, it could be a little overwhelming to match colorful pieces together, especially for those who are used to black and white. So, taking it slow by pairing it with your usual neutral color palettes, can do just the trick!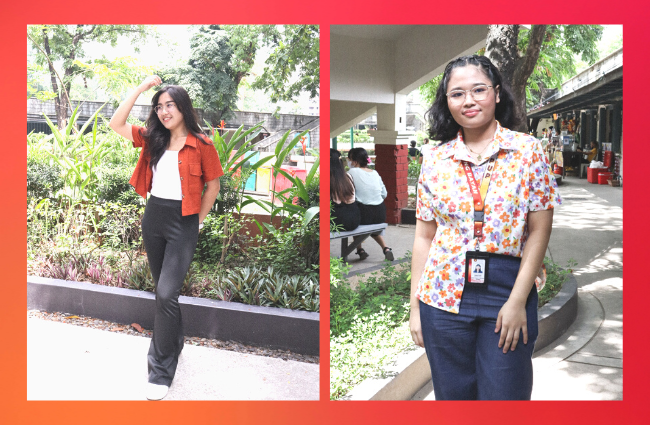 ADVERTISEMENT - CONTINUE READING BELOW
The Financial Management student, Tracy Calma, and Information Technology student, Cattleya Camayudo, didn't shy away from adding a *pop* of color as they make their way to their classes. For a bit of fun, Tracy upgraded her plain white shirt and black flared pants by layering them with a rustic orange cropped button-down. Meanwhile, as her friend jokingly referred to this fit as the "grade school teacher aesthetic", Cattleya totally carried her vibrant floral polo along with the navy wide-legged bottoms. 
5. PUPians are avid ukay-ukay shopaholics
Are you even a PUPian if you don't buy your clothes from the ukay-ukay? The answer is no, and that's non-negotiable. PUP students are known for being ~matipid~ from the food they eat to the clothes they wear. Hence, why they chose to study at a state university in the first place. Besides saving money, PUPians also find thrifting a fun thing to do with their friends. You would usually find them ~treasure hunting~ at thrift stores near V. Mapa or Anonas.
ADVERTISEMENT - CONTINUE READING BELOW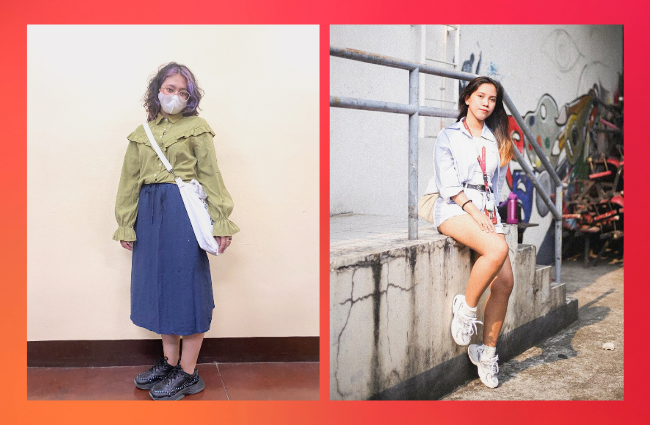 Journalism majors Florence Atabay and Shaira Titong are among the avid thrifters at PUP. As a matter of fact, most of the clothes they wore in the photos are secondhand items! Usually experimenting with her style, Florence frequents ukay-ukay places to find statement pieces like her conservative green ruffled blouse. To make it casual and less intimidating, she put it together with a midi navy blue skirt, black kicks, and a strapped-tote bag. For tipid students like Shaira, thrift stores make it easy to find pieces to mix and match. Gravitating towards a white monochromatic ensemble, Shaira wore her plain white shirt and white-washed denim jeans with a white button-down to elevate her OOTD. 
ADVERTISEMENT - CONTINUE READING BELOW