Name: Patricia Denise Magno
Age: 17
Hometown: Cavite
School: Elizabeth Seton School-South
Accessories make a statement. My style actually depends on my mood. I can go from laid-back, casual, edgy, or girly with a hint of rocker chic. I love making a statement out of my accessories! :)
Shopping haunts. I usually shop in Zara and if I have time, I check out Forever21. But brands don't really matter as long as that certain piece looks perfect on me. I love to shop in thrift stores too because you get to fish something big and beautiful from a sea full of clothes!
Style icons. Camille Co and Vanessa Hudgens. They are fierce in putting pieces together and Ms. Camille Co is never afraid to mix and match patterns to make a statement herself.
Style influencer. First is my mom, because we do shopping together and she gives me advice about clothes and the like. Second, I try not to follow some trends, although I derived from some of them, I put a little touch of my own liking/style. :)
Color my closet. Neutrals. Believe it or not, my closet looks like a pool of white, cream, and gray.
Favorites. Bracelets and necklaces. They add that extra "oomph" to any outfits, even to the most simplest ones.
Never ever going to wear! Leggings under a pair of shorts. It's not gym class!
Comeback trend. Leather jacket. They make a simple outfit look tough but put together.
Best bargain buy. The gray cardigan I just bought from a bazaar for only P150! Isn't that a steal? :)
Pretty cool hand-me-down. A pair of wayfarers my grandma gave me. I think it was from back in the 1980s.
ADVERTISEMENT - CONTINUE READING BELOW
Do you want to be the next It Girl on The Web? Fill out the form here.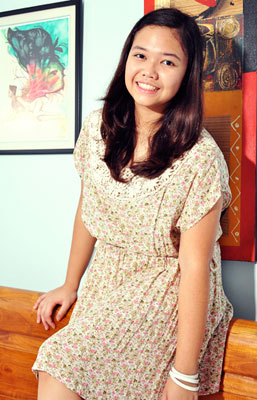 ADVERTISEMENT - CONTINUE READING BELOW