When you flip the pages of your favorite magazine, you're sure to spot at least a few models all dolled up, donning the latest trends and must have designer pieces, and looking larger than life. Have you ever wondered what their own personal styles and fashion philosophies are? We're taking a closer look by getting to know the beautiful models that grace the pages of Candy magazine and their take on fashion. This week we got to know more about blogger, model, and it girl Maya Kibbel who hails all the way from Japan and you can spot here in this month's Candy Style Crush. We spoke to Maya and this is what she told us: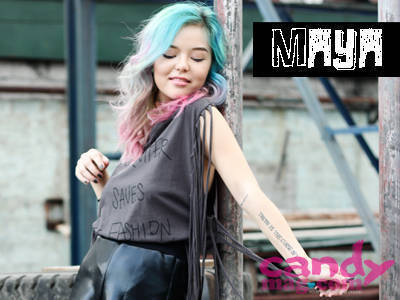 ADVERTISEMENT - CONTINUE READING BELOW
Describe your style.
"I guess I could say that my style is a mix of Tokyo and LA. It's very casual. I like just wearing denim shorts and a tank top. Although, living in Tokyo, I've seen how everyone is fashionable so I've been trying to add more bits of color, cool shoes, or something like that."
What's your everyday look?
"Denim shorts, a tank top or a t-shirt and a cardigan. Sometimes I wear heels but I love wearing sneakers more—comfy shoes!"
What's one trend you like now? How do you sport it?
"I'm loving that the '90s style is coming back. I am a big '90s everything fan—music, style, the people, everything! So I love that the grunge style is coming back and it's more of like casual grunge chic. I would sport it with oversized ripped jeans and a cardigan wrapped around it."
ADVERTISEMENT - CONTINUE READING BELOW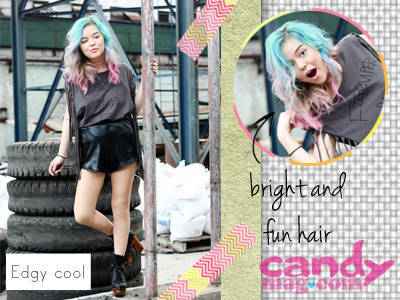 This is what she wore to her shoot for the magazine. We love the mix of leather and fringe, both of which go perfectly with her candy-colored hair!
What's your must-have accessory?
"It's a bracelet my best friend made for me and it says 'love' on it. It's hand-engraved and it's really cute. It's got this brown leather band. I like never take it off, it's my favorite thing! Whenever I'm having a bad day I just look at it and feel better."
ADVERTISEMENT - CONTINUE READING BELOW
Who would you switch closets with?
"I don't really have a style icon but my best friend in Japan, Juria, is probably the biggest style icon in Japan and I would do anything to have her wardrobe. She's a teenager like me and she works at a famous store in Japan called Avant Garde and everyone who works there becomes a celebrity or style icon. She always has amazing corsets and cropped tops and she's starting to make harnesses that are like choker collars. I think it's amazing that she can not only pick out the best stuff but make them too!"