Name: Mikhaela Franchesca "Mix" Supetran
Age: 18
School: De La Salle College of Saint Benilde- Fashion Design and Merchandising
Hometown: Manila Pasig
Style defined. I would describe my style as something hip and classy. I really love mix and matching girly and fun pieces with classic pieces like Blazers with a pair of cute colored shorts or fun necklaces.
Shopping haven. Usually through online shops. Such as Love Trends, Artforfashion, Bubbles! I am one of those shop-a-holic kinds but am lazy to go to malls and shop. So I'm really happy that we can shop through the internet.
Fave fashion designer. If I had to choose only one, it would be Anna Sui for sure! I love her fun designs and how unique the pieces are. Her clothes are very versatile that anyone can wear it. And I also love watching her fashion shows (through the net though. Wishing it was live!) because it's always fun and quirky!
Always wearing... a necklace. My outfit wouldn't be complete without one! I like big, bright-colored and unique pieces so when I'm too lazy to dress up (most especially when I go to school on a rainy weather) I make sure to "dazzle up" my outfit with cute necklaces.
Fashion inspiration. Style wise, my Mom. We have the same taste when it comes to clothing. When we shop together, we really have fun because we want to buy the same things!
Fave style icon. Laureen Uy. She's my favorite blogger! Her style is very interesting. I like how she can be "fashion" without any effort. Plus, her shoes are really nice! I would love to own a pair of any of her shoes.
Closet palette. Pastels, Blacks, Whites and lots of florals!! I have very few of neons and bright colored clothing so I have to work on that!
Big no-no! A hanging top with leggings is a big NO. Nothing is more unflattering than wearing leggings with a t-shirt most especially with a hanging top!
The basics. One would be over-sized polos or "boyfriend" polos. It's comfortable and fun and it can be really fashionable with the right accessories! Another one would be blazers. Wearing blazers gives you a classy look and with the right accessories, you could go from oldie to fun! And you can wear blazers with a lot of clothing pieces so it's easy for you to mix and match them. And last of course would be high trousers or shorts. Personally, being a 5 footer, I would want to look taller without killing my feet with sky high pair of heels. The high waist will give you an illusion of longer looking legs and it also enhances your shape.
Trend rebirth. Ankle flair pants! I really love how it makes people look taller! I wore that recently in an event and people were complementing me because I grew taller! It's all about illusion!
Vintage owns. I own a lot of thrifted clothes, bags, jewelries. Some of which are from ukay-ukays in Baguio (best shopping place!) and of course, I have high waist midi skirts from my grandmother. They are all in good condition and she was in-style back then and I'm really happy she was able to keep all of them!
ADVERTISEMENT - CONTINUE READING BELOW
Do you want to be the next It Girl on The Web? Fill out the form here.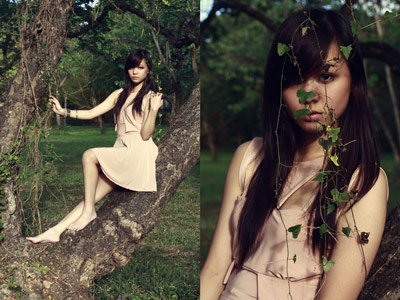 ADVERTISEMENT - CONTINUE READING BELOW