Name: Michelle Dy
Age: 20
School: AMAU
Hometown: Ilocos Norte
Carefree. I usually go for outfits that are light and easy to manage. Loose tops, high waisted bottoms and anything ovesized dominates my closet. My style is very laid back , edgy and feminine at the same time.
Ukay queen. Most of the time you can find me hoarding at thrift stores, department stores, small shops. Anywhere that offers affordable clothing, sales, and bargains. And of course my mom's closet.
Fave fashion designer. I usually check out latest collections from Alexander Wang, Balmain, Dsquared, Anna Sui and Missoni.
Always wearing... Aside from an oversized bag, it has to be my stacks of arm candies. Multiple bangles, gold watch, my favorite leather cuffs!
Fashion inspiration. Olivia Lopez and Marcella of Fashion Distraction inspires me the most, I love their minimalistic style. And of course, the current fashion trends mixed up with the '80s and '90s style.
Style icon. Miley Cyrus, Nicole Richie, the Olsen Twins and Rihanna!
Influenced. I get influenced every day. Whenever I see something that catches my attention. I'd take it as my inspiration. My style never settles.
Closet palette. Spring, fall, summer and winter color palettes. Right now, I'm obsessing over tribal, abstract and floral prints, and a lot of color blocking.
Never ever! Sneakers. Chuck Taylors. I don't know why. I'd rather wear slippers if we're talking about flats. I just can't seem to pull it off.
The basics. Anything gold, high waisted, and chunky sky high heels.
Trend rebirth. Hippie days. The clothes together with the attitude.
Vintage hand-me-downs. Well I have a lot of hand me downs, especially from my mom. Most likely cause she kept her clothes and bags really nicely that they still look good as new up to these days. The high waisted denim cut offs I got from her is one of my favorites. I feel slim whenever I wear it.
ADVERTISEMENT - CONTINUE READING BELOW
Do you want to be the next It Girl on The Web? Fill out the form here.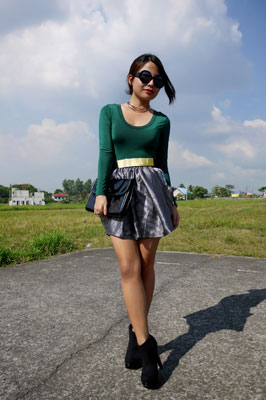 ADVERTISEMENT - CONTINUE READING BELOW