Name: Micah Cabral
Age: 22
School: College of Saint Benilde
Hometown: Philippines
Music influence. My style usually depends on the song I'm listening to. Sometimes I'll even change my hairstyle to match the music. Whenever I listen to "girly" sounding artists like Ingrid Michaelson, Feist, or Chairlift, for example, I end up wearing dresses and ribbons. On the other hand, if I listen to bands like Joy Division, The National, or Girls then I decide to wear more denim or laid back outfits.
Shopping destinations. The first store I run to is Topshop but if I don't get to buy anything there I check Zara, Mango, our clothing line, Clothes Off, or even my mom's closet.
Fave fashion designers. Alexander McQueen, Karl Lagerfeld, Alexander Wang, and a lot more. Though if I were to pick one right off the bat it'd be Coco Chanel.
Always part of the outfit. One thing that's always a part of my outfit would be a watch but it can also be my earrings.
Style icon. My favorite style icon would be the timeless and incomparable Audrey Hepburn.
Style influence. I think my style was influenced by all the shows and movies I used to watch as a kid. Although if you're really asking "who" influenced my style, that "who" is my grandmother.
Closet palette. Actually my clothes are of different color palettes. I'd like to think that I'm a chameleon when it comes to clothes' colors. From nude colors to bright reds, to dark blue and summer yellow.
Never ever! I will never be caught wearing jeggings. Though truth be told, I once had to wear when I was out of the country. At the time, I had ran out of jeans and the store didn't have a lot of jeans for my size either.
The basics. Three things that never go out of style are: Jeans, white button-down long-sleeve shirts and blouses, ballet flats, and aviators and wayfarers. (I have to at least make it four things but I actually could go on forever with this.) And last but not the least, a blue and white nautical stripes printed top.
Trend rebirth. I love the long silky gowns of the '70s that came with the long slits and the blouses that had big ribbons on them. However, I must say the '20s flapper dress are just oh so classy!
Vintage hand-me-downs. I do own a lot of bags from my lola but I don't know how old they are. I also have this amazing vintage black and gold belt from my mom.
ADVERTISEMENT - CONTINUE READING BELOW
Do you want to be the next It Girl on The Web? Fill out the form here.
ADVERTISEMENT - CONTINUE READING BELOW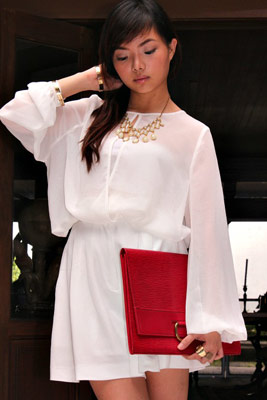 ADVERTISEMENT - CONTINUE READING BELOW