Name: Lui Reyes
Age: 18
School: Miriam College
Hometown: Pasig City
Versatile style. My style is sometimes preppy, grunge, or laid-back depending on my mood and what inspires me.
Shopping haven. Forever 21 and thrift shops.
Fave fashion designers. Alexander Mcqueen, Balmain, Betsey Johnson, and Happy Andrada
Always wearing... my studded ring. :)
Inspired by... the people on Lookbook.
Style goddess. Camille Co.
Dainty ribbons. I'm influenced by ribbon headbands and floral-printed skirts and tops.
Closet's color palette. Black, gray, blue, white, cream, pink, red and green.
Never ever! Weird graphic neon shirts!
The basic three. Leggings, denims, and tank tops.
Vintage trendy. '50s fashion like Zooey Deschanel's style in 500 Days Of Summer.
Vintage hand-me-down. My "L" gold necklace. It is 50 years old now and it once belonged to my great grandmother.
Do you want to be the next It Girl on The Web? Fill out the form here.
ADVERTISEMENT - CONTINUE READING BELOW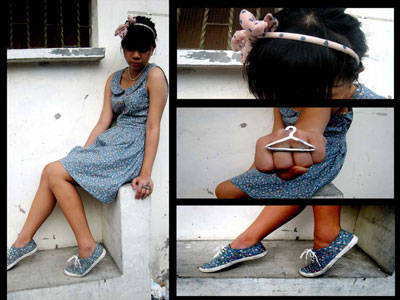 ADVERTISEMENT - CONTINUE READING BELOW