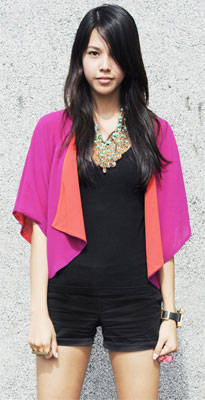 Paradigma blogger Patricia Prieto wore a Forever 21 cover-up to add color to her look. The volume of her trapeze cover-up adds style to the simple ensemble. She paired it with a black Forever 21 tank top and assorted accessories.

If you don't have something like what Patricia's wearing, you can achieve the same effect with your own loose, chunky cardigan. Wear your cardigan upside-down with the collar part falling on the small of your back and the bottom draping over your shoulders. That way, it mimics the way trapeze cover-ups fit you.
ADVERTISEMENT - CONTINUE READING BELOW
What other tricks can you share to achieve this look?
ADVERTISEMENT - CONTINUE READING BELOW