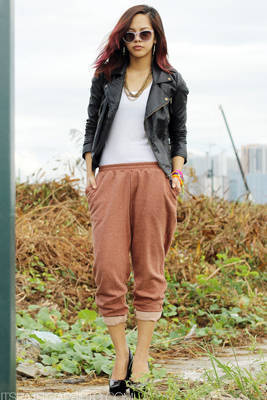 Athletic-inspired fashion has been a big trend all year and Patricia Prieto of the blog Paradigma shows us all how it's done! She went with one sporty piece, a pair of sweatpants, and dressed it up with a white tank top, leather jacket, layered accessories, sunnies, and black heels. The stylish blogger even scrunched up the pants for an added laid back feel to her look.
ADVERTISEMENT - CONTINUE READING BELOW
Pulling off an athletic-inspired look using sweatpants is easy, all it takes is a little imagination and a whole lot of infusing your own style into the outfit. Make your sweatpants night appropriate by wearing your grey pair with a sequined top and sky-high heels! Wear your sweatpants to a picnic by pairing it with a floral cropped top and your favorite wedges. The options are endless, so grab your sweetpants and start styling!
What would you wear with your sweatpants? Share your styling tips by leaving a comment!