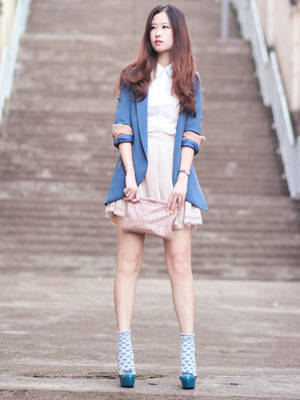 Mayo Wo, blogger of Mellow Mayo, is known for her soft and very feminine sense of style. Once we stumbled upon this outfit post of hers, we instantly fell in love! The focal point? Her heart print socks worn with oxford heels! It was the perfect statement piece to her oversized blazer, white polo, pleated skirt, and pink clutch. The printed socks were just the right amount of playfulness to a very polished and girly outfit.
ADVERTISEMENT - CONTINUE READING BELOW
Wearing socks with heels or pumps can be very daring alone, which is why wearing printed ones can seem very challenging. Don't be scared to take a risk and try wearing a pair for yourself! The trick is to pick socks with small or micro prints and pair them with an outfit that either directly matches the color or complements it, just like Mayo's does. Also, printed socks aren't just best worn with heels. Wear them with a pair of flatforms or oxfords and match them with a white dress to keep the socks as the focus. Just make sure to have fun and be confident because that way your outfit will surely look amazing!