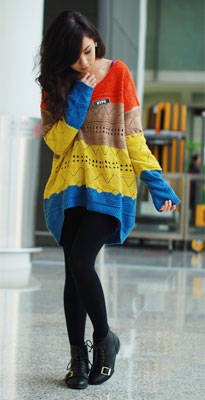 On her recent trip to Hong Kong, Kryz Uy chose to wear what she calls an "airport-friendly outfit." Her iAnyWear knit sweater gave the right amount of warmth during her flight to Hong Kong without sacrificing style. She wore DIY pearl shorts over her WAGW leggings so it would be easy for her to move around and carry her luggage when needed. She finished off the look with Romwe booties and a HYPE pin from the Bloggers United event.

If you don't have an oversized sweater like Kryz's, take a peek into your brother's, dad's, or boyfriend's closet and borrow their sweaters. Wear shorts underneath your sweater and over your leggings just like what Kryz did. Keeping your outfit effortless, loose and simple, will make your trip comfortable.

What other combos do you consider airport-friendly? Share them with us!
ADVERTISEMENT - CONTINUE READING BELOW